Brandon Belt: Patience Pays off for Giants and Their First Baseman
June 24, 2012

Thearon W. Henderson/Getty Images
If you haven't noticed lately there is a new force in the San Francisco Giants lineup. First baseman Brandon Belt has been on a tear in the month of June. 
After an up-and-down rookie year in 2011, this was going to be the year that Belt had the opportunity to prove himself for the Giants. 
But as is their habit, Manager Bruce Bochy and General Manager Brian Sabean had little patience with the youngster the first two months of the season. Although he got the lion's share of the playing time against right-handers, with lefties on the mound the Giants instead went with Brett Pill and Buster Posey for the most part. 
That experiment failed horribly. In April, Belt hit a respectable .278, but only got 36 at-bats. In May he nosedived to .203 in 64 at-bats. In the second week of June, Belt still didn't have a home run. 
Meanwhile, Pill has struggled and was sent back to the minors.
I and others speculated how long it would be before the Giants would go out and get a first baseman. Belt had something else to say on the matter. 
So far in June, Belt is hitting .360 with four homers and 15 RBI. His on-base percentage is a gaudy .484 and his OPS is an obscene 1.164! 
In the last 11 games he's done most of that damage, hitting in every game. Belt has hit .441 with three doubles, all four homers and 12 RBI. Plus he's racked up nine walks.  
By the way, he has been hitting left-handers, with all four homers coming off southpaws.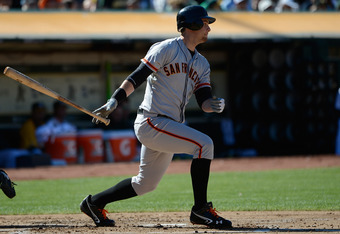 Thearon W. Henderson/Getty Images
So what has made the difference? 
First of all, the Giants made a commitment to him when they sent Pill down. Aubrey Huff being on the disabled list hasn't hurt either; Belt hasn't had to look over his shoulder. The job is all his until he proves he can't do it.  
Second, he recently made an adjustment in his stance and right about that time was when he started to hit. 
Belt has always shown power in the past. That's why his lack of home run production has been such a mystery, up until recently. 
He has always been a very patient hitter, so he takes walks, further boosting his OBP. 
He can run, which is unusual for a first baseman. 
His defense, always a strength, has been a huge asset to the team. Belt is a natural at first base. Early in the year he saved a lot of errors for Pablo Sandoval and Brandon Crawford while they struggled. If he had been in the lineup more, those two would have made fewer errors and the Giants may have won more games. 
Hopefully we are now seeing the REAL Brandon Belt—the guy who tore up minor league pitching two years ago. The guy who was supposed to be the Giants' first baseman for the next 10-12 years. 
Leaving him in the lineup every day is the Giants best move at this point. His production against lefties makes it so a platoon isn't necessary. And he is providing the Giants with power they desperately need.  
The tools have always been there for the baby giraffe. Now he is starting to show the Giants and their fans the kind of production we all believed he was capable of. Granted it's been less then one month. But if Belt can keep it up, the Giants can concentrate on other needs at the trade deadline and in the offseason.  
Plus it will further deepen the Giants' lineup, which is starting to look pretty good indeed going forward.