Texas Rangers: Why Elvis Andrus Should Be Leading Off, Not Ian Kinsler
June 24, 2012
Ronald Martinez/Getty Images
Ian Kinsler has hit leadoff for the Texas Rangers during the most successful run in team history, but the time has come for Elvis Andrus to ascend to the top of the order.
Andrus is having a breakout season for the Rangers. In the past, he had been a slick fielding shortstop with a decent bat. But this year, he has transformed into one of the top hitting shortstops in baseball.
He's hitting for a .296 average, but even more importantly, he has a .372 on base percentage—12th best in the American League.
This means he manages to get on base 37 percent of the time. An outstanding rate for a middle of the order hitter let alone a line drive hitting shortstop like Andrus.
The great OBP rate can be attributed to his excellent eye at the plate.
He has the ability to distinguish between balls and strikes with the best of hitters, and he has the discipline to lay off of tempting breaking balls and fastballs just off the strike zone.
Another factor in his outstanding OBP rate is his ability to drive the ball to all fields, which is highlighted by his impressive ability to work the ball the other way.
Kinsler, on the other hand, is a power hitter masquerading in a second baseman's body.
Every time he comes up to the plate, Kinsler is looking to get the most out of his at bat, swinging with a powerful uppercut that is rarely seen from a leadoff hitter.
Despite bucking normal baseball principals, his swing has been effective throughout his career.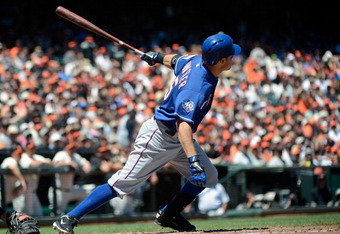 Thearon W. Henderson/Getty Images
In only seven seasons, he has 131 home runs—averaging just under 20 a year. Like Andrus, Kinsler has a great eye at the plate. He has drawn over 40 walks in each year of his career and drew 89 bases on balls in 2011—the fifth-highest total in the AL.
However, for all of the positives that Kinsler brings to the leadoff spot, his inability to hit for a high average is a major weakness.
Kinsler has the ability to hit for a solid average, as he showed in 2008 when he hit .319. But that was the only time in his career where he has hit above .300, and his aggressive nature at the dish has hurt the Rangers, at times.
His career average is only .275, and in 2012, he's hitting .272. This low rate can be attributed to his tendency to hit fly balls, which is a consequence of his uppercut.
Kinsler seems to pop up, hit a home run or walk in almost every at bat with no in-between, hurting his ability to reach first base.
Andrus, on the other hand, has no such problem. He hits the ball with authority to all fields and walks at the same prodigious rate as Kinsler.
Kinsler's game is much more suited for the fifth or sixth spot in the order, where his uppercut swing would have a chance to consistently drive in runs.
So why hasn't Ron Washington made this change?
That's a question to ask him, but it probably has something to do with the old adage "if it ain't broke don't fix it."
After all, Kinsler does lead all of baseball in runs scored, and the Rangers do have the top offense in the league.
But for a team that has reached two straight World Series only to fall short on both occasions, they should be looking for any way to improve instead of sticking to what got them there.
Andrus is a natural leadoff hitter, and the Rangers' already potent offense would be augmented by moving the 23-year-old Venezuelan to the top of the order.
Kinsler has been great, but it's time for Washington to make this change.
Andrus has earned the opportunity, and Kinsler would flourish in the middle of the order, where he could swing for the fences to his heart's content.