UNC Basketball: The NBA Draft and What Could Have Been for the Tar Heels
June 23, 2012

Chris Trotman/Getty Images
Oh, what could have been.
Next Thursday, four former North Carolina Tar Heels will enter the 2012 NBA draft: Tyler Zeller, Kendall Marshall, Harrison Barnes and John Henson.
One can only wonder what would have happened if Henson and Marshall never got injured in the tournament. Would Roy Williams have his third title—and Zeller his second?
Better yet, what if Henson, Barnes and Marshall didn't enter the draft this year?
That brings me back to 17 years ago (feeling old, now), when Jerry Stackhouse and Rasheed Wallace took their talents to the pros. At the time, Vince Carter and Antawn Jamison were highly touted recruits, but we can never know exactly how good a player will be at the next level until they hit the floor—period.
Now that we know what these four players turned out to be, I can't help but to think about what could have been.
Jeff McInnis was the starting point and decided to go to the NBA a year after Stackhouse and Wallace, following his junior season. Sheed and Stack both just finished up their sophomore season, before entering the 1995 NBA draft.
Enter Antawn Jamison and Vince Carter.
Imagine Stackhouse, Wallace, Carter and Jamison on the floor together—all being fed by a very solid collegiate point guard. That team would have the potential to be one of the most dominant teams in the history of college basketball.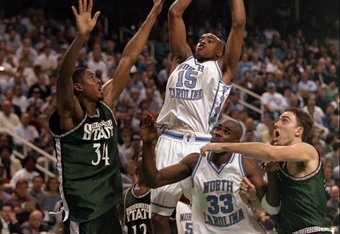 Craig Jones/Getty Images
All four players went on to be NBA All-Stars. As a matter of fact, they totaled 17 All-Star appearances.
But how would they fit on the floor together?
Quite easily, actually. Stackhouse and Carter could have worked the 2 and 3, shifting positions to exploit matchups. Jamison would have played the 4 and Wallace would dominate at the 5.
No words can describe how amazing that team could have been—and one would have to be crazy to argue against that. Had Stackhouse and Wallace stayed for all four years of eligibility, they would have had two complete seasons with Carter and Jamison.
Would back-to-back titles have kept Dean Smith's interest in the game? Maybe not, but it's something else to consider in this realm of possibilities.
Before I go any further, understand I have no animosity toward any of these players that decided to pass up their eligibility for the pros. Who am I to judge someone for wanting to make their life better?
Isn't that what we all want to do?
I have no problem with the one-and-done, the two-and-through or even the not-at-all. But that's for another day and another article, which I actually wrote a couple months ago.
That brings me to today—less than a week prior to the 2012 NBA draft.
Personally, I feel we could see at least one future NBA All-Star in Roy Williams' latest group of recruits. Marcus Paige, Brice Johnson, Joel James and J.P. Tokoto all have potential pouring from their ears. Tokoto has even been compared to Carter, due to his electrifying dunks.
Then again, when you think electrifying dunks, it's hard not to think about Vince Carter—Carolina fan or not.
I have a lot of faith in the 2012 UNC recruits, and haven't been afraid to take a beating over my predictions of excellence. No matter how strong I feel about them, and how well I feel I analyzed their game, nobody will know until they hit the floor.
Likewise, we also don't know how Zeller, Henson, Barnes and Marshall will turn out in the pros. But if they—particularly, the underclassmen—end up NBA All-Stars and one or two of these freshman go on to do the same, we will have to visit this topic once again.
What could have been?