Josh Hamilton Movie: Sorry Hollywood, but It Already Exists
June 22, 2012

Denis Poroy/Getty Images
On June 22, it was announced that there will be a movie produced based on the rise of Texas Rangers outfielder and Most Valuable Player candidate Josh Hamilton.
While the project (which is slated to be directed by Casey Affleck) is in its infancy, the idea of a Josh Hamilton movie is intriguing—if it hadn't already been done.
That's right, there's already been a movie that could be portrayed as the Hamilton story, and it was made back in 1984.
That movie is called The Natural.
In the movie, Robert Redford plays a promising prospect named Roy Hobbs who catches scouts' eyes when he strikes out one of the best baseball players in the world, simply known as "The Whammer."
Eventually, Hobbs gets an offer from the Chicago Cubs before making his way up to a hotel room, where a woman shoots him. It's assumed that Hobbs' career is dead and he doesn't resurface until 13 years later, when he's a 35-year-old rookie.
From there, Hobbs dominates the National League with the New York Knights and becomes one of baseball's best players thanks to a bat he made as a kid that had "Wonderbat" engraved into it.
Most of baseball has already heard of Hamilton's story, but it bears a striking resemblance to that of the Hobbs character.
While Hamilton wasn't seduced by a woman to go to a hotel room and face impending doom, Hamilton instead had to face many demons after being selected by the Tampa Bay Rays as the first overall pick in the 1999 MLB draft.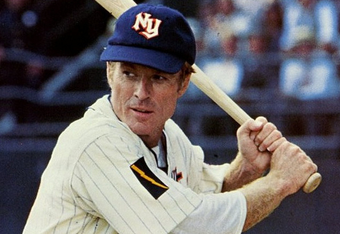 Hamilton became addicted to several drugs and almost found himself out of baseball completely before cleaning up and working his way back into the Rays minor league system.
The Rays wanted no part of Hamilton, so he was entered into the 2006 Rule 5 draft by the Chicago Cubs and then traded immediately to the Cincinnati Reds.
One more trade to the Texas Rangers for Edison Volquez prior to the 2007 season, and Hamilton made his best Roy Hobbs impression from there.
Since arriving in Texas, Hamilton has blossomed into one of the best players in all of baseball and won the 2010 American League Most Valuable Player Award.
Hamilton even had his own version of "Wonderboy," (Hobbs' trusty bat he carved out of a tree that was struck by lightning) as he blasted nine home runs with the same bat (including homering four times in a game in Baltimore) from May 8 to May 13.
Thankfully, Hamilton's career has not come to a screeching halt, as Hobbs' did after his injuries from the gunshot wound ended his comeback after one season. But that's not the point.
Hamilton's legend has become similar to that of a movie character, which tells you how ridiculous his comeback has been.
Hollywood would like to make a true-life version of The Natural, but the fact is, it already exists—Rangers fans have been treated to it every night.
Hamilton won't turn down this giant paycheck, but come on, Hollywood. If you're going to look for something to make a baseball movie out of, at least be creative. Until then, I look forward to the release of Toy Story 10, when Chucky enters the fold.