Washington Redskins: Setting Goals for Brian Orakpo and Ryan Kerrigan in 2012
June 22, 2012

Patrick Smith/Getty Images
In order to take the next step in 2012, the Washington Redskins will be relying heavily upon two of the brightest young pass-rushing stars in the game to transform the defense from good to dangerous. 
Both Brian Orakpo and Ryan Kerrigan were selected in the first half of the first round of recent drafts (Orakpo in 2009, Kerrigan 2011) and both have proven to be superb young playmakers early in their careers. 
Yet in the sack-happy NFC East, where all four teams were ranked in the top 10 with at least 40 of them last year, it's crucial that they continue to improve rapidly. The Redskins don't have a strong enough secondary to survive against the likes of Eli Manning, Tony Romo, Michael Vick and (at least this year) Drew Brees, Ben Roethlisberger and Cam Newton without an elite pass rush.
Sure, it would help if complementary rushers such as Jarvis Jenkins, Stephen Bowen and Adam Carriker would step up, but those players all have distinguishable ceilings as a result of being 3-4 ends.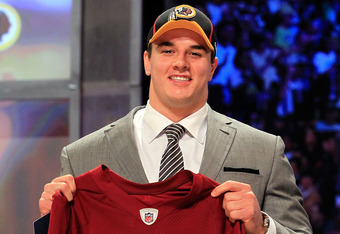 Chris Trotman/Getty Images
The real pressure's on Orakpo and Kerrigan, who at 26 and 23, respectively, are far and away the most talented defensive players in burgundy. 
So, what do the 'Skins need from their starting outside linebackers this year? 
I wrote Thursday that, in the best-case scenario, the Redskins would register 50 sacks in 2012. That would mean a nine-sack (or 22 percent) increase from 2011. Adding Jenkins, who missed his entire rookie season due to injury, should help, but Washington will still be relying on Orakpo and Kerrigan to account for five to 10 more total sacks.
Last year, Orakpo had nine sacks and Kerrigan had 7.5. That means that they should ideally combine for between 22 and 26 sacks next year. 
How does that happen? Well, both players—and particularly Kerrigan—should improve naturally if they maintain trajectory. Plus, they'll benefit from increased pressure up front. 
There are also indications that the sacks should come naturally, even if neither player improves markedly. After all, Pro Football Focus ranked Orakpo as the fifth-most productive pass-rusher in the league last year. The four players ahead of him on that list averaged 13.5 sacks. So look for the market to naturally adjust itself in 2012.
In fact, according to numbers provided by PFF, only two pass-rushing duos—DeMarcus Ware/Anthony Spencer in Dallas and Cameron Wake/Jason Taylor in Miami—brought more pressure than Orakpo and Kerrigan in 2011. 
Kerrigan was a mere rookie in a lockout-tortured season, and he appeared to fade down the stretch, and yet only six players in the entire league got as much total pressure on the quarterback as he did.
How much better might Kerrigan be with a full offseason under his belt? And how much better will Orakpo be with an improved Kerrigan and the presence of Jenkins? Things could become downright scary. 
Here are my expectations for the two in 2012, compared to what they did in 2011: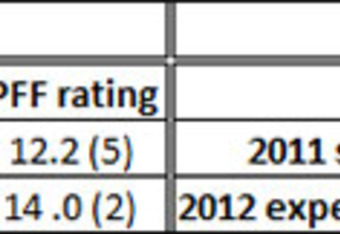 Am I expecting too much out of them? I hardly imagine anyone could say I'm setting the bar even a little bit low. Let me know what you think.