Will San Francisco's Rotation Have Two 20-Game Winners This Year?
June 22, 2012

Tony Medina/Getty Images
The front end of the Giants pitching staff is having a magnificent first half. 
A combined 23-9, Matt Cain (9-2), Madison Bumgarner (8-4), and Ryan Vogelsong (6-3), are part of the only staff in the big leagues showcasing three pitchers with a minimum of six wins, and individual ERA's under three. 
The Giants big three are also the heart of a rotation in which the number four and five starters are a combined 7-13, and struggling with a myriad of issues.  
With three starts a piece before the All Star break, Cain and Bumgarner have a great shot at recording double digit win totals by the midway point.  Vogelsong, could also be close if he's able to get back on a roll after his six-game win streak was snapped in Los Angeles Wednesday night. 
Barring injury, all three starters should have a minimum of 16 starts after the break. Cain and Bumgarner have compiled their current totals on 14 starts, Vogelsong one less at 13. 
Based on 33 starts a year, Cain is on pace for 21 wins, Bumgarner 19, and Vogelsong 15.  
While all three pitchers have pitched well in the first half, they are not pitching above what they have proven in the past, or what the Giants expect from them.  They're also not suffering from an abnormal plethora of run support on a nightly basis as that hasn't been an issue for a Giants pitcher for some time. 
Along with staying consistent and avoiding three and four-game losing streaks, they will need to be a little lucky to rack up a similar win total in the second half.  Cain and Bumgarner have a combined five no-decisions so far, Vogelsong has four.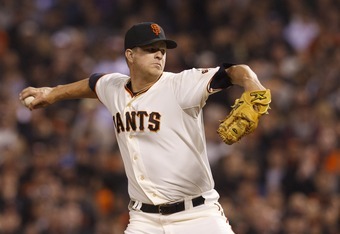 Jason O. Watson/Getty Images
The Giants offense has done a better job of scoring early and supporting their starters, and that will need to continue.
Historically, Cain has been in this position before and has faltered in the second half.  In 2009, Cain compiled a 10-2 record in the first half, and last year he was 8-5 before the break.  Both years he finished the second half with a 4-6 record, falling far short of the hallowed mark. 
After a horrendous first half last year, Bumgarner finished the season with a 9-4 record after the break, getting stronger as the year progressed. 
Already matching his total of six wins before the break last year, Vogelsong ended up going 7-6 after his first all-star appearance as the Giants fell apart offensively in the latter months of the season. 
Out of the three, Vogelsongs chances are miniscule at best.  Even if he wins the next three before the break, he would need to win 11 of his 16 starts in the second half, highly unlikely. 
The last time two teammates won 20 games in the same season was 2002, when Randy Johnson and Curt Schilling did it for the Arizona Diamondbacks, and Pedro Martinez and Derek Lowe did it for the Boston Red Sox.   Incidentally, that was the second year in row that Johnson and Schilling completed the feat. 
The last time two Giant teammates won 20 games in the same year was 1993, when John Burkett and Bill Swift led the Giants to a 103-win season.