NFL: Why the New Orleans Saints Will Succeed Despite Bounty Scandal
June 22, 2012

Thearon W. Henderson/Getty Images
The offseason heading into 2012 is one that the New Orleans Saints organization nor many of their fans will ever forget.
Rocked by a now infamous scandal known as "bountygate," many feel the Saints will feel the effects of numerous suspensions and bad press this coming season.
Head coach Sean Payton has been suspended for the entire season and four players will miss time as well.
Anthony Hargrove and Scott Fujita don't even play for the Saints anymore, so other teams are feeling a trickle-down effect. The St. Louis Rams took a big hit when Gregg Williams, the alleged "mastermind" of the bounty program and former Saints defensive coordinator, was suspended indefinitely, shortly after he was hired to the same position on Jeff Fisher's new staff.
Throw into this the Saints' contract dispute with Drew Brees and the assumption that this will be a down year for the team may be accurate.
So how will the Saints overcome all of this, especially in an increasingly competitive NFC South division?
They Still Have Brees
Look, the contract situation, ugly as it may be, is going to get sorted out, unless the Saints are a very clueless organization.
Brees is as responsible as anyone for making this team a perennial title contender. He's coming off a 2011 season in which he broke Dan Marino's 27-year-old record of passing yards in a season while also throwing for 46 touchdowns, arguably his best season as a pro.
The Saints will make Brees happy with a suitable contract.
Offseason Moves
The team lost guard Carl Nicks to free agency, but they replaced him with Ben Grubbs. Grubbs isn't as good as Nick,s but he's just a step below and will fit into the offensive line nicely. 
They brought in linebacker David Hawthorne and run-stopping defensive tackle Brodrick Bunkley. Most importantly, they re-signed Brees' favorite target, Marques Colston, who caught 80 passes for 1,143 yards and eight touchdowns in 2011.
They lost Robert Meachem to San Diego as well but were able to draft Nick Toon out of Wisconsin, who was a good value pick in the fourth round and will be a player to watch on this team.
They Are Still Tough At Home
Dating back to the 2008 season, the Saints sport a 25-7 home record. Inside the Superdome, the Saints are a hard team to beat.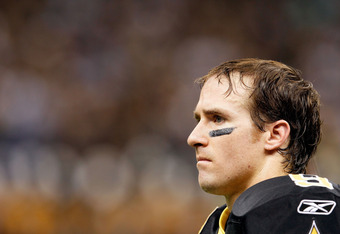 Kevin C. Cox/Getty Images
Their offense is much more prolific on the turf under the dome as well.
They Will Overcome The Coaching Issues
With Payton being gone the whole season, many people point to this being the Saints' biggest potential hurdle.
Current offensive line coach Aaron Kromer will handle the team for the first six games of the season while interim head coach Joe Vitt sits out his own suspension.
The team has Pete Carmichael at offensive coordinator and Steve Spagnuolo, who has NFL head coaching experience, at defensive coordinator. Both of these men will help the Saints greatly in their respective departments.
The Saints have a cohesive unit on their coaching staff and they will be able to survive a year without Payton.
Do the Saints have issues to overcome? No doubt. But they've also won the NFC South division two of the last three years and won 10 or more games each of those seasons.
The competition within the division will be stiff from both the Falcons and a very good, slightly underrated Panthers team.
However, for the reasons listed above, I believe the Saints will overcome these odds and win the NFC South for a fourth consecutive season.
This is not to dismiss the horrible allegations made against the organization as well as some of its players and coaches. But I feel the players will be able to redeem themselves by doing it the old-fashioned way, proving it on the field.