Report: San Jose Sharks, Ottawa Senators Making Late Push for Rick Nash
June 22, 2012

Christian Petersen/Getty Images
With the overall consensus being that coveted superstar Rick Nash will most likely be traded during or around the 2012 NHL Draft, now is the time for serious teams to pursue arguably the biggest prize this offseason.
According to SportsNet's Nick Kypreos, who took to Twitter Thursday night, the San Jose Sharks and Ottawa Senators have been in recent hot pursuit of Rick Nash.
‪#SNdraft‬ news. Seems ‪#Sens‬ and ‪#Sharks‬ most interested ‪#NHL‬ teams for ‪#Bluejackets‬ Rick Nash as of Thurs nite.
The Ottawa Senators were just recently thrown into the Rick Nash sweepstakes and now appear to be real players in acquiring the 28-year-old.
The San Jose Sharks have always been considered players for Nash, especially since they made such a big push for him at the trade deadline last season.
However, the news that the Sharks are pursuing Nash comes as a surprise to some at this point.  Kevin Kurz of csnbayarea.com reports that the Blue Jackets would want San Jose's Logan Couture in return for Nash.
Sharks' GM Doug Wilson reportedly was not willing to budge on that and even commented on the possibility of it. Via 95.7 The Game's Twitter feed:
"If it's one of our young centers in any trade, that's a non-starter for us," Wilson said.
Heading into Thursday, the thought of the Sharks acquiring Nash in a trade was far from thinkable, and there was even belief that San Jose would have to move on from the Nash sweepstakes and focus on other possibilities such as Zach Parise, James van Riemsdyk or Evander Kane.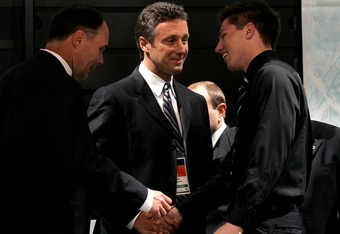 Bruce Bennett/Getty Images
The San Jose Mercury News' David Pollak even tweeted that there was still no rumblings of trade discussions between Wilson and Blue Jackets GM Scott Howson as of Thursday.
Comcast SportsNet Bay Area's Kevin Kurz even had the thought of the Sharks moving on from Nash and threw van Riemsdyk's name out there as someone the Sharks should pursue now that Nash was out of the realm of possibility.
It still seems very unlikely that San Jose can acquire Nash's services.
Several teams have better offers than the Sharks can make, and if Wilson is not willing to move Couture, then a deal does not seem possible at this point in time.
Joe Pavelski's name has come up in the rumor mill as a player Wilson can or has thrown into the discussion, and it really seems like the only realistic way the Sharks can sway Howson into trading Nash to San Jose.
However, Pavelski would not be enough, and it may take any combination of Pavelski, Ryane Clowe and one of the Sharks' slew of young goalie prospects to make this deal happen—unlikely, to say the least.
Follow me on Twitter @ScottSemmler22