Tim Lincecum: Why It's Too Risky for S.F. Giants to Give Him a Long-Term Deal
June 22, 2012

The numbers speak for themselves.
The Freak from San Francisco is 2-8 in 14 games started in 2012. In those 14 starts, Lincecum has allowed 53 earned runs, 13 shy of the number he allowed all of last season. He's currently sitting on a 6.19 ERA; since 2008, he's finished only one season with an ERA above 3.00.
In short: things are looking grim for the two-time Cy Young winner and World Series hero.
Unlike rotation mates Matt "Perfect Game" Cain and Madison Bumgarner, Tim Lincecum did not sign a major extension heading into 2012. While Cain inked a mammoth $127 million contract and Bumgarner agreed to a team-friendly arrangement worth somewhere between $35 million and $70 million, Lincecum was content to take a two-year, $40.5 million deal.
At the time, Lincecum told SFGate's Henry Schulman, "I just don't know how I'm going to feel five years from now, or three years. That's why I'd kind of like to take things step by step."
While Lincecum most likely meant to suggest he didn't know where he might want to play (and the record-busting contracts a venue change could solicit) in the near future, his words seem quite ominous in retrospect. Remember that Lincecum passed on a reported five year, $100 million extension before agreeing on the two-year deal he's currently under.
Lincecum's move to take less years and be set for a potentially humongous payday in 2014 was a risk—and one that now appears to be on the verge of backfiring. Rather than having the comfort of guaranteed money and years beyond next season, the suddenly struggling Lincecum will lose much of his leverage if his numbers don't dramatically improve between now and the end of 2013.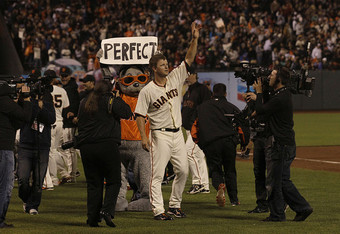 On top of his own troubles on the mound, Lincecum has been forced to watch the dramatic rise of Matt Cain's public profile following his perfect game last week. Throw in excellent first halves from Madison Bumgarner and Ryan Vogelsong, and the Giants don't look to be lacking quality pitchers.
None of this is to say the Giants don't want Lincecum back—of course they do. Not only did Lincecum headline the 2010 team that took home the World Series title, but he is one of several major success stories out of San Francisco's farm system. You don't let a homegrown multiple Cy Young winner go because his velocity drops a few miles.
You might, however, consider reevaluating what type of contract you want to offer him.
Baseball deals are all about leverage. After 2010, Tim Lincecum had all the leverage—unprecedented success early in his career, a name that sold tickets and his whole future ahead of him. He was the rare breed of player that you locked-up for the long haul, costs be damned. Now, Lincecum's feature has turned opaque. He may break his funk and return to being one of the game's premiere arms. He also may never recover the dominance that earned him the most coveted pitching honor in baseball two years running.
Simply put, Lincecum has too much potential to abandon but too much risk to assume he'll be able to replicate his past success. If Lincecum's contract ended after 2012, I'd say the Giants would be best served to offer him three years at $60 million. The contract would essentially function as a prorated version of the deal they offered him during the offseason. With the regret of the Barry Zito deal still haunting the front office every fifth game, there's no way they'll attempt to "buy low" on Lincecum and hope he shakes his woes.
Luckily, both sides have another season beyond the current one to feel each other out. An offseason following a terrible year can do wonders for a scuffling player. It can also do nothing at all. No matter the outcome, Tim Lincecum will decide his own fate. That's what he wanted coming into the season, and now he's got it.
Batter up, Freak.