Kansas City Royals' Jonathan Broxton: A Continuing Enigma
June 21, 2012

Bob Levey/Getty Images
The Kansas City Royals over the past offseason acquired former All-Star closer Jonathan Broxton. The free-agent reliever signed a $4 million, one-year deal with the team.
At the time, the deal made perfect sense. The Kansas City bullpen, while extremely effective in the 2011 season, is quite young, and adding a veteran arm seemed very reasonable. Broxton was ineffective in 2011, and missed much of the year due to injury, but the price was right for a pitcher only one year removed from two straight All-Star appearances.
The intent was for Broxton to serve in a middle relief role, possibly as the setup man for closer Joakim Soria. Unfortunately, Soria was injured early in spring training, ending his season before it began, and the Royals were left without a clear ninth-inning man.
Many assumed the Royals would leave Broxton in the setup/middle relief role and turn the closer job over to one of their young relievers, namely Greg Holland or Aaron Crow. Kansas City manager Ned Yost and GM Dayton Moore chose to move Broxton into the ninth-inning role vacated by Soria.
On the surface, the decision appears to have been a solid one. Broxton has converted 18 of 21 save opportunities and is currently sporting a 1.57 ERA. These numbers would imply that Broxton is among the best closers in the game.
He is not.
My views on the closer role in general are beyond the scope of this article, but suffice it to say that I believe it is the single most overrated job in all of baseball. Broxton, at least as a closer, is the epitome of this premise.
Broxton in his prime was a fire-balling strikeout machine. He dominated NL hitters from 2006-2009, striking out over 10 per nine innings in each of those four seasons, and in 2008 held opposing batters to a paltry .163 batting average.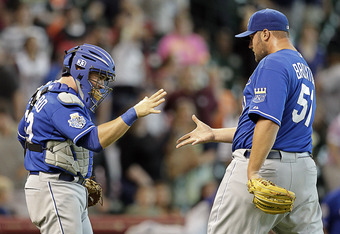 Bob Levey/Getty Images
Those days are long gone. Broxton in 2012, while appearing successful at first glance, is worse than league average in many key pitching categories. In all of the following measures, the average MLB pitcher is superior to the Royals' closer: batting average allowed, on base percentage allowed, strikeout rate, walk rate and (obviously) K/BB rate.
There is one statistical category in which Broxton has "excelled" this season, and it is one largely beyond his control—strand rate (also referred to as LOB).
Sabermetric studies have shown over the course of time that this statistical measure is not one of skill, but of luck. The collection of MLB pitchers as a whole strand approximately 70-72 percent of runners that reach base. Pitchers whose strand rates are above this average are generally considered "lucky" and those below this percentage are deemed to be "unlucky."
Jonathan Broxton this season has stranded over 85 percent of baserunners. This stat is utterly unsustainable.
At this point, many of you are thinking, "Who cares? If it ain't broke, don't fix it. He's getting the job done."
Thus far, yes he is. However, the writing is on the wall. As much as I hate to say it, Broxton will not have sustained success as a closer without striking out opponents and while allowing an above-average number of runners to reach base. Things could get ugly very quickly.
Though you would not know it by looking at their record, the Royals actually find themselves in decent position in the AL Central. As of today, Kansas City is a mere 4.5 games back of the division lead. With the Detroit Tigers performing well below what most expected, the division seems to be up for grabs.
The Royals need quality starting pitching—badly. With highly-touted outfield prospect Wil Myers having a huge year at AA/AAA, Kansas City's Jeff Francoeur has been mentioned by several sources as being on the trade blocks.
While individually, Francoeur and Broxton would not likely net Kansas City much in trade value, the pair packaged together just might be enough to get the Royals a "rent-a-pitcher" (due to be a free agent after the season) for the balance of this season, giving them a shot at their first postseason appearance in decades.
There is another benefit to making such a move. Broxton is clearly not the long-term solution for the Royals at closer. Either Joakim Soria will come back strong next season, or Aaron Crow or Greg Holland will be inserted into the role in 2013. Allowing one or both of them the opportunity to close this season will give them experience in the job, and it is doubtful the team will see any drop-off in performance with Broxton gone.
The time to deal Jonathan Broxton is now while his value is at its highest point in several seasons. Hopefully, the Royals don't miss out on this opportunity.
As always, thanks so much for the read. Follow Mark on Twitter @EbbyCalvin37.