Jason Vargas: Seattle Mariners Lefty Takes Home AL Worst of the Night Award
June 21, 2012

Norm Hall/Getty Images
On Wednesday night, Seattle Mariners lefty Jason Vargas decided to do his best Bronson Arroyo (circa 2011) impression in his start against the Arizona Diamondbacks at Chase Field.
To this end, he was very much successful.
...And that's not a good thing.
Vargas has been scuffling lately, but he reached a new low on Wednesday. He lasted just 4.1 innings, his shortest outing of the season. He allowed 10 earned runs on nine hits, five of which left the ballpark. His ERA jumped from 3.95 to 4.66, and the Mariners went on to lose the game by the final of 14-10.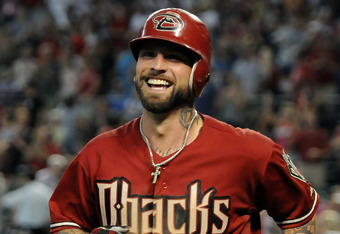 Norm Hall/Getty Images
The Diamondbacks ended up hitting six home runs on Wednesday night. You can watch all of them over at MLB.com. My personal favorite is Ryan Roberts' inside-the-parker, because it's just not every day that you get to see a dude who looks like he should be a bass guitarist streaking around the bases at full speed.
The five homers given up by Vargas are the most he's allowed since, well, ever. In fact, it's been a while since a Mariners pitcher last allowed five home runs in a single game, and it doesn't happen all that often to begin with. ESPN Stats & Information came through with the vital intel:
Jason Vargas tied a Mariners record by allowing 5 HR today. The others to allow 5? Mark Langston ('88) & Jamie Moyer ('06). #Elias

— ESPN Stats & Info (@ESPNStatsInfo) June 21, 2012
That's not bad company, for the record. Even still, I doubt the three of them would want to talk about what they have in common if we were to put them in a room together.
We could also put Vargas in a room with Frank Pastore if we were so inclined (and I sure as hell am). Vargas shares something in common with him too.
According to the Elias Sports Bureau (via ESPN.com), Vargas is just the second pitcher since 1900 to give up 10 earned runs while allowing five home runs in fewer than five innings. Pastore did it in a relief outing when he was with the Cincinnati Reds in 1979. The game was started by Tom Seaver.
Had I been giving out the award back then, I would have given today's American League "Worst of the Night" award to Pastore. Today, as you've probably already guessed, I'm giving it to Vargas. 
I figured it was going to go to New York Yankees righty Phil Hughes after he allowed four home runs and six earned runs against the Atlanta Braves, but Vargas managed to make Hughes' outing against the Braves look like a symposium on how pitching is supposed to be done.
On the bright side, at least Vargas managed to collect a hit last night. His OPS for the season is at an even .900.
This Seattle Seahawks blogger noticed something interesting:
Does Chone Figgins care that Jason Vargas has a higher OPS than him by nearly 400 points?

— Hawk Blogger (@hawkblogger) June 21, 2012
Does he care? Probably.
Can he do anything about it? Nope.
If you ever want to nominate somebody for American League "Worst of the Night" honors, hit me up on Twitter.