NHL 2012-2013 Schedule Released: Carolina Hurricanes' Schedule Preview
June 21, 2012

Grant Halverson/Getty Images
The National Hockey League has released its 2012-2013 season schedule.
Starting October 11th—unless September's CBA negotiations lead to an extended lockout—all 30 NHL teams will embark on another five-month, 1,230-game campaign.
For the Carolina Hurricanes, that great endeavor will begin a little more unusually than for most.
With the start of the season delayed a few days longer than in years past, the team's annual N.C. State Fair road trip will fall at the very beginning of the season—translating into a six-game western swing to kick off the '12-'13 campaign.
The 'Canes will play Game One of their 82-game campaign on Saturday, Oct. 13th, in a three p.m. (ET) matinee in Winnipeg. The club will then travel to four Western Conference teams on the Pacific Coast (Vancouver, Anaheim, Los Angeles and San Jose, respectively) before finishing off the road swing in Boston on the 23rd.
Then, Carolina will finally return home on Friday, Oct. 26, for their home opener, a seven p.m. showdown with the New York Rangers. The 'Canes will stick in Raleigh for one more game, a 1:30 afternoon battle with Columbus that Sunday, before heading out to New Jersey to cap off an eventful first month.
By the time December 10th rolls around, the Hurricanes will have played 20 of their seasons' first 30 games away from the PNC Center, including two visits each to Winnipeg, Boston and Pittsburgh.
Later that month, the Hurricanes' packed holiday slate will bring a chaotic 2012 year to a close. The 'Canes will host a much-anticipated meeting with the Detroit Red Wings the day after Christmas, and then celebrate New Year's Eve with an eight p.m. contest against Montreal, the second game in a four-game homestand.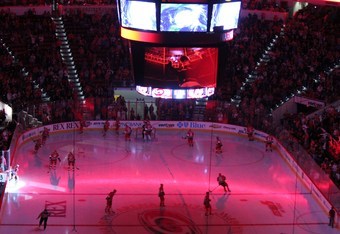 The team will get their longest break of the season—a not-so-restful eight days—during the All-Star Break in late January. The week-long rest period also occurs within another four-game homestand, in which the 'Canes will have a whopping 18 days between away games.
Following a four-game road trip in early February, the Hurricanes receive their longest home stretch of the year, a seven-game spell stretching from Feb. 15th to Mar. 2nd. Five of the seven different teams slated to visit Raleigh during that stretch made the playoffs this past season.
At last, Carolina will finish the season with six games in April, twice as many as their 2011-2012 schedule contained. The 'Canes will face their top rival, the Capitals, two times during that span, and then finish off the season with a home game against Montreal at seven p.m. on Friday, Apr. 12.
Notes & Numbers
One: Number of occasions where the Hurricanes will face the same team in back-to-back games; the lone instance is a Nov. 8 home game against the Flyers followed by a Nov. 10 road game in Philadelphia.
One: Number of months in which the 'Canes won't have to face 2012 Southeast Division Champion Florida. After a Panther-less October, Carolina and Florida will square off once in every remaining month of the season.
Three: Number of Western Conference teams the 'Canes will play twice in '12-'13. The squad will play both a home and an away game against Anaheim, Phoenix and Columbus.
Four: Number of games 'Canes fans must wait before seeing their team take on the defending Stanley Cup Champions. The Hurricanes will visit Los Angeles on Oct. 18th.
Four: Number of weekend home games the 'Canes have against 2012 Eastern Conference Finals combatants New York and New Jersey. All four of the Devils' and Rangers' visits to Raleigh occur on Friday, Saturday or Sunday.
Five: Number of homestands with three or more games. Three of them occur in the Hurricanes' final 26 games.
Seven: Number of road trips that include at least three games. Four of them fall in the Hurricanes' first 30 total games.
Eight: Number of Saturday road games the 'Canes will play before their first Saturday home meeting, Dec. 22nd against the Ducks.
Ten: Number of 'Canes matinee games (faceoff at five p.m. ET or earlier) in '12-'13, six of which will be at PNC Arena.
Fourteen: Number of back-to-backs in the Hurricanes' schedule next season. That's two fewer than the team played last season and seven fewer than the club faced in '10-'11.
Fifteen: Number of games the 'Canes will play in both November and December, the two busiest months of the team's '12-'13 season. Their 14 March games fall just short.
Twenty: Number of home games the 'Canes received in their final 33 overall games, five more than the team had in their final 33 games this past spring.
Twenty-One: Number of weekend hockey games at PNC Arena; seven on Fridays, eight on Saturdays and six on Sundays.
The 'Canes entire eight-game preseason schedule and 82-game regular season schedule can be viewed here.
For an analytic breakdown of the preseason slate, released last week, read this article.
To view Hurricanes' full-season, 26-game and 12-game season ticket pages, visit the team's ticket-purchasing information page.
For a preview of the team's current focus—the NHL Entry Draft, beginning Friday night—read our complete 'Canes 2012 mock draft.
Mark Jones is a Bleacher Report featured columnist. In four years with the site, he has written more than 385 articles and received over 515,000 reads.