Cleveland Cavaliers: Is Anderson Varejao Being Undervalued?
June 21, 2012

Kevin C. Cox/Getty Images
The 2012 offseason for the Cleveland Cavaliers looks to be a transformative time for a team that is trying to return to the playoffs after two atrocious seasons.
After bringing in two top rookies in last year's draft in Kyrie Irving and Tristan Thompson, GM Chris Grant is looking to make a quick flip of the talent level on the team with two picks in the first round this year and four in the first 34. The Cavs are likely to explore every possibility of moving up and getting a second pick in the lottery.
There is no shortage of opinions among fans about what moves Grant should make. One idea that seems to be gaining traction is trading Anderson Varejao.
I feel like I'm in the minority, but I believe that Varejao is one of maybe only three players on the Cavs that I would not trade except for an outrageous offer (Irving being the exception…I wouldn't trade him for Miami's big three).
Are we forgetting just how good Varejao really is? Have we forgotten what happened to the team after he went down the past two seasons?
The Cavs were a legitimate playoff-contending team when Varejao was in the lineup with a record of 10-14 going into the Milwaukee game on February 10. The team went 11-31 with him out of the lineup. Would you like me to break down the percentages? That's a .417 win percentage with Varejao and a .262 win percentage without him.
Look, I get that we probably weren't going to make the playoffs anyway and that for the long-term well-being of the team it was probably better that Andy missed all those games. But I'm done with the "losing for draft picks" mentality. (If you can't build a team around three players taken in the top four picks, then you don't deserve to have a job.)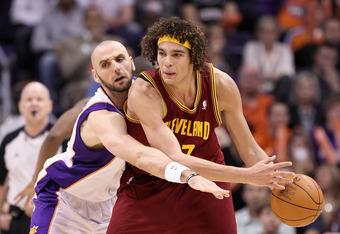 Christian Petersen/Getty Images
If seeing the percentage differences with and without Varejao still isn't enough to sway you, then let me point out some more stats.
The web site 82games.com is one of the most highly respected sites for statistical analysis around the league. Every team in the league uses either 82games.com's analysis or their own version of the same thing. Their "Simple Rating" system breaks down various statistical factors and, in a nut shell, ranks the best players on each team in a given year.
Of players who contributed to at least 10 percent of the teams minutes for the season, Varejao finished first on the team in 2011-12, second in 2010-11 (behind Baron Davis) and second in 2009-10 (behind LeBron James).
This shouldn't come as any big shock that Varejao has been one of the best players on the Cavs over the last three seasons. So why is everyone so quick to trade him away?
The only plausible explanation I've heard is that he turns 30 in September and that he's a cool decade older than Kyrie, which supposedly means they can't build the team with both of them.
I think this argument holds weight if we were talking about Kyrie during the peak of his career at age 28 or 29. But 30 years old is hardly old for an NBA player, especially for big men who often play well into their late 30s.
If we trade Andy now and then the team is in contention in three years (which is very plausible), I'll bet anything that we'll be wishing we had a veteran big guy who plays great defense and is one of the best rebounders in the the league.
I also completely reject the notion that the way Varejao plays is too reckless and leads to his injuries. Can you even tell me how he got injured the past two years?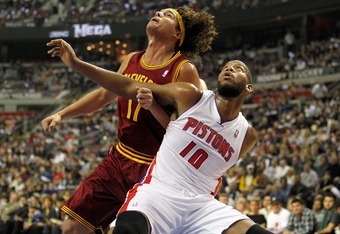 Gregory Shamus/Getty Images
Two seasons ago, he was lost for the season with a torn tendon in his ankle that he suffered in practice. By all accounts it was a freak injury.
Then this past season, he broke his hand after grabbing an offensive rebound getting hacked by Drew Gooden (still waiting for the refs to blow the whistle by the way).
It's not like he's had recurring injuries like a bad back or creaky knees. He's just had two freak injuries after missing almost no games in his career to that point.
Others have tried to make the point that he suffered these injuries because he's playing out of position at center, which is just about the stupidest reasoning ever. I get it, really I do...Varejao wouldn't have grabbed that offensive rebound if he was playing power forward. Yeah, that makes sense.
And while we're here, Varejao is a center, not a power forward. He was exposed in the Orlando series in 2009 as not being able to guard the stretch 4s in the league, which is where the position is headed. Andy's game is best suited in the paint. He can guard the pick-and-roll fine except when it's against a more athletic forward. That's when he struggles. Plus, he's been playing center for the past three years, so this shouldn't even be an issue at this point.
Getting back on track, I believe that Anderson Varejao is the most valuable player on the Cavs. If he's not, then he's a close second behind Kyrie Irving.
I could crank out more stats about how he averaged a double-double this past season and had the best +/- on the team behind...wait for it...Lester Hudson. I could also bring up the fact that he received serious consideration to be selected an all-star over Roy Hibbert. I could go on and on.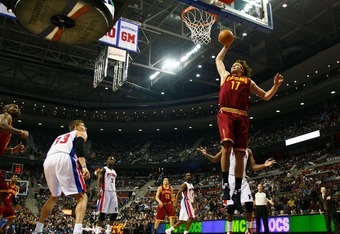 Gregory Shamus/Getty Images
But I'm a realist and I realize that Chris Grant is going to do whatever he believes will get the Cavaliers a championship. If that means trading Varejao (who easily has the best value on the team besides Kyrie), then I understand that.
But for those of you who are throwing out scenarios where we trade Andy and the No. 24 pick to move up to No.15 to take Arnett Moultrie...please stop. Varejao's worth is much greater than, that and by suggesting such silly trades, you're showing your ignorance.
The only way I would trade Varejao is for a top-10 pick. With that pick we'd need to take someone like Meyers Leonard or Tyler Zeller to fill the center position. Or we'd need to be sure that we could throw enough money at a free-agent center like Brook Lopez.
And even then, I still hate the idea of trading Varejao.
It goes beyond just that he's a fan favorite. And make no mistake, he's a huge fan favorite. My wife, who does not enjoy watching sports, loves watching Anderson Varejao. It's not just the hair; it's the way he plays all out all the time like it's Game 7 of the finals. It's the way that he plays with an obvious love for the game.
Maybe it's because I think like a coach, but these things are so important to me. It's easy to say "just trade him for a 20-year-old center" without taking into consideration that Varejao's worth to the team is so much greater than his 10.8 points and 11.5 rebounds per game.
To borrow one of the most overused cliches ever, players like Varejao who are willing to work hard every minute of every game and always strive to be better simply do not grow on trees.
And when you get a player like that, you had better be dang sure you're getting equal value if you're trading him. Otherwise, it will probably cost you your job.
(Maybe I should forward this to Chris Grant.)
You can follow Benjamin Flack on Twitter @ClevelandFlack.