Los Angeles Angels Blank the San Francisco Giants Behind Jered Weaver
June 21, 2012

Stephen Dunn/Getty Images
Jered Weaver, fresh off the disabled list with a strained lower back, showed no signs of rust for the Los Angeles Angels Wednesday night, as he pitched six strong innings of two-hit ball. 
Weaver allowed four base runners, allowing only one to reach second base, as he and the bullpen combined to shutout the San Francisco Giants 6-0.
At times, Weaver looked like the same dominant pitcher that fired a no-hitter against the Minnesota Twins earlier in the year. With a pitch count around 80 pitches, Weaver was efficient, striking out three while only walking two.   
The Giants hit very few balls on the nose and helped Weaver out with his pitch count by continually swinging at the first pitch. 
Even after Weaver left the game, the Giants could only muster two additional hits, as the team was shutout for the third time this season.
Ryan Vogelsong (6-3) entered the game with a six-game win streak—the longest of his career—but he fell behind early. In the bottom of the second inning, Vogelsong surrendered a solo home run to the Angels third baseman, Alberto Callaspo. 
Trailing 1-0 in the bottom of the fifth, Vogelsong had his worst inning, allowing two runs on a double, two singles and hit batsman. 
Still, Vogelsong lasted seven innings, giving up three runs while striking out six. His performance was sold and he has made it through six innings in all 13 of his starts.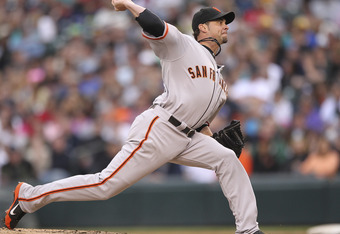 Otto Greule Jr/Getty Images
After departing in the eighth, Vogelsong watched as Shane Loux gave up three additional runs on the suddenly hot-hitting Angels.   
A bright spot for the Giants was Brandon Belt, who extended his career-high hitting streak to nine games with a single in the top of the fifth inning. Belt entered the game hitting .423 over his last eight games, with three home runs, two doubles and seven RBI.
The other good news for the Giants is their crosstown rival, the Oakland A's, took care of their division rival, the Los Angeles Dodgers, 4-1. 
The Giants remain four-and-a-half games back in the standings as they head to Oakland to take on the A's Friday night. 
Tim Lincecum (2-8) will take the mound for the Giants in hopes that this is the start that gets him back on track. The A's will send out Jarrod Parker (3-3) to face Lincecum.
Game time is 7:05 p.m.