Is Mike Trout the Best Young Player Under 25?
June 21, 2012

Stephen Dunn/Getty Images
Every now and then, baseball seems to bless its fans with a pair of remarkable talents so far and away better than anyone else playing the game that they end up truly in a class by themselves, leaving fans to debate throughout their careers which of the two is the best of the best.
DiMaggio or Williams? Mays or Mantle? Pedro or Maddux?
Could we be seeing that once again with Mike Trout and Bryce Harper?
Trout, whom I refer to as Rickey Henderson Jr., has had a bigger impact on his team's fortune than any one player whom I can remember, and the fact that he's doing so at such a young age evokes images of what it must have been like to see someone like Mantle play at that age.
Before you get up in arms about my comparing Trout to the Mick, lest we forget the Angels were 7-14 and in dead last place on April 28th, the day Trout, 20, was called up. Since that time, they have gone 31-18 and moved to within five games of first place Texas. And make no mistake, Trout has been THE catalyst for the turnaround. 
That tends to happen when you import a leadoff hitter who bats .338 and gives you 20 HRs and 90 RBI to go with 40 doubles and 60 stolen bases, which is what Trout's numbers project to over a 162-game season. His youthful exuberance has clearly energized the clubhouse. 
With Trout leading the way, the Angels now take the field with the look of a team that expects to win that night—and with good reason. The team is 8-1 in its last nine series played, which includes series wins over the Rangers, Yankees and Dodgers, all currently residing in first place in their respective divisions.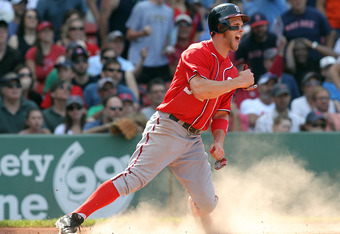 Jim Rogash/Getty Images
Harper, a year younger at age 19, has been almost as impressive since making his Nationals debut on the same date, posting a .291 average with 7 HRs and 20 RBI. Despite being saddled with near-mythical expectations and the hype to match, Harper has not disappointed, and in watching him, it's clear to see why everyone is so bullish on his future.
Forty-eight games, give or take, is no small sample size, and it's enough to see that at this point we are talking about a couple of once-in-a-generation players. There's a great deal of talent out there right now in the under-25 bracket, and I have no doubt we will be seeing the likes of Eric Hosmer, Starlin Castro, Giancarlo Stanton and Elvis Andrus pop up as league leaders in many offensive categories for years to come.  
But I mean, c'mon, any of their GM's would get laughed out of the room if they suggested a straight-up trade between their guy and Trout or Harper. Laughed out of the room. These two guys are that good. 
So who would you rather have?
As insanely talented as Harper is, at this point, the title of "Best Young Player Under 25" has to go to Trout. Harper is a close second, and everyone else a distant third. My vote for Trout isn't simply because of the numbers he's putting up, as ridiculous as they are.
Any long-time reader of this column knows that I believe numbers only tell part of the story. As I watch him play night after night, I see the things that don't show up in the box score: how he consistently squares up on the ball like someone who simply knows how to hit a baseball, how he doesn't look fooled at the plate very often, which is rare for someone his age, and how he hustles in the field and on the basepaths.
(Late in Wednesday night's game against the Giants, Trout hit a routine two-hopper to second base, and I was half convinced he was going to beat it out for a hit. He didn't, but it was a much closer play than you'd expect.)
Bottom line, he just looks like a superstar when he's out there, as does Harper, whereas the others look like great players. It's like taking the top guitarists of the past 20 years and putting them next to Eddie Van Halen. 
It's no slight on them that they don't measure up to him any more than it is to the Hosmers of the world when you compare them to Trout. When you factor in that he's not even old enough to buy beer yet, it's scary to think about what kind of player Trout's going to be two or three years from now and beyond.
But that's then and this is now, and at this moment, I'd advise everyone to be content just watching Trout do what he does as the Angels try to shake off their horrendous April and get back into the playoff
chase. There's still plenty of baseball to be played, and neither Trout nor the Angels seem intent on slowing down. 
Harper and the Nationals don't look like they are going anywhere either so, who knows, maybe these two phenoms will end up squaring off come October, and we can re-examine the debate about who is better at that juncture. But as of right now, if you are asking which one deserves the title of "Best Young Player Under 25", I have only one answer, with all due respect to Harper:
That's a clown question, bro.