L.A. Lakers: Is Kobe Bryant's Legacy Riding on His Final Years?
June 21, 2012

Ronald Martinez/Getty Images
When it comes to judging the legacy of Kobe Bean Bryant, there are three ways to look at it: from a fan's perspective, from the media's point of view and through the intense eyes of the Mamba himself.
Does Kobe need to do something special in his "final years," like being shot out of a cannon or beating Miami and LeBron in the Finals while playing on one good leg with a patch over his left eye?  What more does this guy have to do to quiet his critics?
I, for one, think Kobe's legacy has already been signed, sealed and delivered.  Bryant will be remembered as one of the best basketball players to ever lace up a pair of Nikes, regardless of what he does or does not accomplish in the twilight of an absolutely stunning professional career.
However, my opinion certainly won't prevent others from arguing that Bryant needs to win a sixth or even seventh NBA championship to be mentioned in the same breath with the likes of Magic Johnson, Larry Bird, Kareem Abdul-Jabbar and, of course, Michael Jordan.
And, even then, the comparisons with MJ will not end and there will be those who will never acknowledge what No. 24 has done and meant to the Lakers organization and fans.
Kobe Bryant may be one of the more polarizing figures in the game, but ardent fans of the sport are passionate to the point of obsession and often mistake a player's wish to win games with him merely wanting to pad his statistics and steal the limelight from everyone else.
That is not who Kobe Bryant is.  Sure, he still shoots too much, but how can you argue with 28 points per game on 43 percent shooting when your teammates aren't hitting their shots?  The Lakers as a team were pathetic perimeter shooters this season and their bench was virtually nonexistent. 
Not to mention their first-year head coach, Mike Brown, never really sold his players on his system.  He gets a redo for 2012-13.
Bryant continues to write his legacy with his dogged determination to win another championship.  Last summer he underwent a radical blood spinning procedure in Germany to help his ailing knee and give him additional strength over the course of the season.  It worked so well Kobe is heading back and may in fact be there now.
Kevin Ding of the Orange County Register writes in a June 13 column:
He is believed to be in Germany for another round of innovative treatment on his right knee that was so improved by Peter Wehling's blood-spinning procedure a year ago at the Orthogen labs in Dusseldorf.  It's logical Bryant wants to be at his best for Olympic play this summer—and if you know him you know he wants to be at his best already when he reports to USA Basketball camp in Las Vegas in less than a month (July 5) to begin competing in practices with and against Durant, Harden, Russell Westbrook, Chris Bosh, Dwyane Wade and LeBron James—all of whom can still win this NBA title.
My guess is that, like Steve Nash or Grant Hill, Kobe would love to play well into his 30s because he loves the competition and wants to win titles.  Yes, he's greedy that way.  And he just may do it.
Bryant has two years left on his huge contract that calls for him to earn $27.8 million this year and $30.45 million in the final season at the age of 35. His endorsements alone brought him $32 million last year.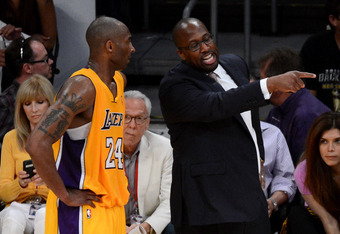 Kevork Djansezian/Getty Images
Would Kobe consider "stretching" that money out over a couple more years in order to free up some cash to bring in reinforcements on a team that's been knocked out of the playoffs in the second round two straight years?  Even under the new collective bargaining agreement, I believe that can be done. 
However, I go back to my earlier point that Kobe Bryant does not need to win another title to cement his legacy.  He's won five titles, two scoring championships, been named All-NBA and All-NBA Defensive first team eight times each and scored 81 points in a game against Toronto during the 2006-07 season, the second most in NBA history.  Bryant starts his 17th season in the NBA this fall and plays better injured than 95 percent of the league does healthy.
Pretty remarkable, if you ask me. 
Signed, sealed and delivered—this is Kobe Bryant's legacy, and it just gets better with time.