Kansas City Chiefs: Why the Chiefs Must Pay Dwayne Bowe
June 27, 2012

Andy Lyons/Getty Images
Dwayne Bowe is on the cusp of being an elite receiver and he deserves to be paid as such by the Kansas City Chiefs.
Right now, he has been designated as the team's franchise player, but Bowe has yet to sign the tender.
Fans shouldn't fret, though, because Bowe will likely sign his tender sometime before the July 15 deadline and join the team for what should be a very productive season for the former LSU Tiger.
It would be worrisome if Scott Pioli lets Bowe take his talent to another city in 2013. 
He has done a remarkable job of producing during his five seasons as a Chief, and he has done the bulk of his work without much talent to speak of at the quarterback position. 
Bowe is only 27, and he has many productive years ahead of him. He certainly deserves a deal greater than the one that 25 year-old Desean Jackson got back in March.
Vincent Jackson also got a similar free agent deal with Tampa Bay, and Bowe has out performed both of these players during his career.
Bowe came into the league in 2007, when he burst onto the scene with 70 catches and five touchdowns.
Maturity issues have plagued Bowe since his arrival in Kansas City, but it seems as though he left those in the past. He also had trouble against elite cornerbacks in the early part of his career.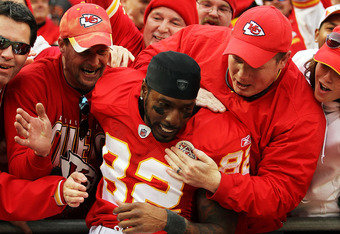 Jamie Squire/Getty Images
It looks like Bowe has grown, and it showed in last year's season finale. Even though he got hurt midway through the game, Bowe completely owned Champ Bailey catching every pass thrown his way for 93 yards.
This was a capstone to a decent season for Bowe, who thrived despite injuries surrounding him on offense.
Running back Jamaal Charles and tight end Tony Moeaki were out for essentially the entire season, and quarterback Matt Cassel missed the last seven games.
Bowe ended last season with a respectable five touchdowns along with 81 receptions, which was a far cry from his amazing 2010.
He had less receptions in that banner year, but Bowe formed a connection with Matt Cassel in 2010, and the two combined for 15 touchdowns.
This was just a glimpse of what Bowe can do when all the elements are in place. .
The Chiefs need Bowe to be this type of receiver, and the franchise has been without a true legit wideout threat for what seems like ages.
Eddie Kennison was a decent No. 2, who benefited greatly from an outstanding offensive system. He was the closest thing to a playmaking receiver that has graced Arrowhead Stadium for years.
Bowe has the chance to become a top wide receiver in the NFL, and he will soon get paid like one. He is going to be out to prove his worth this season. For everyone involved, hopefully Scott Pioli and the Chiefs are set to pay the man.