Fact or Fiction: Baltimore Ravens Offseason Edition
June 20, 2012

Larry French/Getty Images
All week long, I will be breaking down a pair of scenarios for each AFC North team and determining whether they will prove to be fact or fiction. Today's installment features the Baltimore Ravens.
Scenario: The Baltimore Ravens defense won't struggle without Terrell Suggs and Jarrett Johnson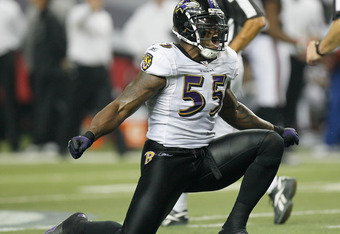 Kevin C. Cox/Getty Images
This hasn't been the most pleasant of offseasons for the Baltimore Ravens defense.
From losing starting linebacker Jarret Johnson in free agency as well as two of their special-teams-contributing safeties, to dealing with the painful reality that reigning Defensive Player of the Year Terrell Suggs may miss the entire season after tearing his Achilles tendon, it's looking like the Ravens may have some trouble fielding one of the NFL's best defenses this season.
But not so fast. The Ravens are certainly going to feel the losses of both Suggs and Johnson, but they have a roster full of defensive talent more than willing and able to make up for them.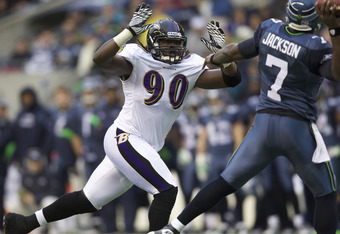 Stephen Brashear/Getty Images
You can't just pluck a player out of thin air and assume he'll do what Suggs has done for the Ravens—considering that pretty much no one in the league can do what Suggs does—but you can certainly still win games and field a fearsome defense with someone else in his spot.
Battling it out for the two spots are Paul Kruger, Sergio Kindle and rookie Courtney Upshaw. Mike McAdoo was also part of this competition, but he suffered a torn Achilles of his own in OTAs and is out for the season as a result.
The other two Ravens linebackers are Ray Lewis and Jameel McClain, who combined for 179 tackles, three sacks and four forced fumbles. Lewis is excellent at stopping the run and will have to step up that part of his game into overdrive this year without Johnson in the fold.
Johnson was a run-stopping specialist, but his pass-rush was lacking. If his replacement can strike an effective balance between the two, it's possible the Ravens' linebacking corps ends up improved rather than weakened.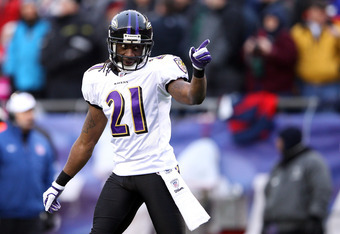 Elsa/Getty Images
Chances are, Kruger is a lock for one of these two jobs, with the battle coming down to Upshaw and Kindle for the second. They could in fact split time as starters this season, with Pernell McPhee stepping in to take over the defensive end duties that belonged to Suggs.
But linebackers are but four members of the Ravens starting defense. On the defensive line and the secondary, Baltimore is as strong as ever. All members of that defense know that by losing Suggs and Johnson, all will be asked to put in that much more work and play that much better and harder.
And chances are, they'll step up to that task without hesitation. There's no way Baltimore is going to allow these setbacks to damage their chances for success or derail their attempt to reach and win a Super Bowl this season.
It's not going to be easy to fill the holes the losses of Johnson and Suggs make in the Baltimore defense, and there will be some uneasy patches throughout the season. However, that defense hasn't been crippled by these losses, just dinged up a bit.
VERDICT: Fact
Scenario: The Baltimore Ravens will effectively use a third wide receiver this season.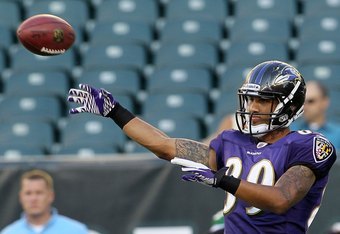 Jim McIsaac/Getty Images
The Ravens, since Cam Cameron took over the offense in 2008, haven't had an effective third wide receiver. In those four years, they've had four No. 3 receivers, none of whom have had more than 34 receptions in a season.
This year, veteran acquisition Jacoby Jones will be battling for the not-so-glamorous job with LaQuan Williams and Tandon Doss. Undrafted free agent Deonte Thompson also appears to be in the fight if the reports out of OTAs and minicamp are any indication. 
Baltimore desperately needs to get more production out of its passing game. Last season, the team's second-most targeted receiver wasn't a receiver at all—it was running back Ray Rice, who had 104 passes thrown his way (Anquan Boldin had 105).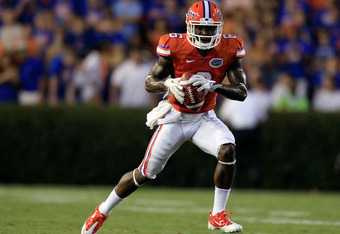 Sam Greenwood/Getty Images
This season, Torrey Smith should surpass Boldin in both targets and receiving yards as he takes over the majority of the receiving duties and Boldin gets more work in the slot. However, the Ravens will more likely use their two tight ends, Ed Dickson and Dennis Pitta, rather than increase the workload of their No. 3 receivers.
Baltimore has a very conservative (some would say predictable) passing offense, one that doesn't generally value the contributions of its third receiver. While this has been to its detriment—less variety means less ability to surprise opposing defenses—it doesn't seem like Cameron is going to change his game plan anytime soon.
So while the Ravens have a potentially good situation on their hands as far as their No. 3 receiver position is concerned, it's likely all for naught. This just isn't a team that relies heavily on their third receiver, and likely, whoever gets the job is in for below 40 receptions again this season.
VERDICT: Fiction