Yadier Molina: Next Hero of the St. Louis Cardinals
June 20, 2012
Dilip Vishwanat/Getty Images
Let's fast forward for a brief moment to late October.  The MLB regular season is now complete.  The St. Louis Cardinals have secured one of the 10 available slots for the postseason and are deep into the NLCS. 
The game is tied, and a 30-something, 230-pound mountain of a man wearing a single-digit jersey steps into the batter's box, ready to relive and repeat another glorious postseason performance. 
For the sentimental Cardinal fan, I'm sure visions of Albert Pujols immediately jump to mind.  For the optimistic fan, images of Matt Holliday or Carlos Beltran serve as the most likely of men to be cast in such a scenario.  And they all would be wrong. 
In a line of heroes that includes names such as Hornsby, Slaughter, Musial, Gibson, Ozzie and Pujols, meet Yadier Molina, the next hero of the Cardinals franchise. 
Molina re-signed this spring with the Cardinals, agreeing to a five-year, $75 million contract extension ($15M per), with a mutual $15M option added for 2018. 
This signing came on the heels of Cardinals management refusing to commit to a decade, and about a quarter of a billion dollars, to re-sign Molina's favorite pickoff mate, and two seasons after the team negotiated its largest contract ever—seven years, $120 million—with Holliday. 
Logic dictates that Holliday is the obvious replacement for Pujols, both in the lineup and in the clubhouse.  There is no doubt that Holliday is expected to get on base as often as Pujols, and to drive in runs in similarly massive amounts. 
If Holliday does so, and the Cardinals continue to take home championship hardware on a regular basis, then soon enough we might look back and say Holliday is worthy of placement among those previously named franchise greats. However, you have to understand the difference, from a Cardinal fan's perspective, between Holliday and Molina. 
Holliday was essentially bought by team management after flexing some free-agent muscle in an attempt to join the big-market spenders in MLB.  Molina was drafted, groomed and rose up through the Cardinals' farm system. 
Holliday is an outsider who has married into the family.  Molina is the family.  Do not underestimate that. 
On game days, Busch Stadium is littered with No. 4 Molina jerseys, and chants of "Yadi, Yadi, Yadi" rain down upon the catcher whenever he steps to the plate or mows down a runner trying to steal a base. 
Fans have no specific cheers for Holliday, giving something akin to a generous applause.  It's more a sign of respect from fans than adoration.  In fact, Holliday is probably better known for the play he didn't make (dropping a fly ball to cap a three-game sweep by the Dodgers in the 2009 NLDS) than for any that he has made.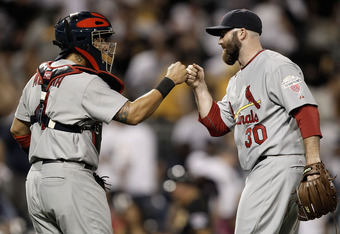 Jared Wickerham/Getty Images
Molina long ago secured his place as a St. Louis fan favorite.  It came somewhere between the four Gold Gloves, the 38 pickoffs coming into this season (more than double his closest competition among active catchers) and an NLCS-winning home run in Game 7 against the Mets in 2006. 
Molina's career drips with moments that make you shake your head in disbelief on an almost daily basis.  He is the most dynamic player on the Cardinals' roster, and that's why he deserves to be mentioned with those franchise greats of the past. 
There is no question Yadier is worth every penny of his contract.  He is by far the best catcher in baseball today.  Last year, Molina batted 35 points higher than Brian McCann, hit more home runs than Victor Martinez and had more hits than Mike Napoli (with half as many strikeouts). 
Molina has the highest success rate (39 percent) throwing out potential base stealers, and while he has played more games and caught more innings than any other catcher over the last three seasons, history (and genetics) suggests he has some of his best years ahead of him. 
Molina set career highs in every important offensive category last season, and if those Molina family genes have any say, it seems things will only get better.  Brothers Bengie and Jose enjoyed success on the field well into their 30s.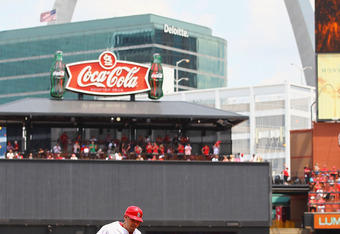 Dilip Vishwanat/Getty Images
While never playing less than 115 games during his last six seasons, Bengie set or matched personal career highs in home runs during his age 31, 32 and 34 seasons, and he did so in RBI at the age of 33.  Jose never got the kind of playing time that his brothers received during their careers, but he contributed to World Series teams twice in his 30s and in his final season, he batted 40 points higher than his career average. 
If for no other reason, Molina is the centerpiece of the Cardinals going forward sans Pujols, because he will be instrumental in guiding the team's very young and highly touted starting pitching rotation.
Jaime Garcia, Shelby Miller, Carlos Martinez, Tyrell Jenkins and Jordan Swagerty all will benefit from an experienced backstop calling the game.  Throw in the crop of young infielders already with the team (David Freese, Tyler Greene, Matt Adams) and those soon to be on the way (2B Kolten Wong), and it is clear that success for the Cardinals is only possible by, with and through Yadier Molina. 
MLB teams everywhere are leery of investing heavily into a position that chews up its members and within just a few years, spits them back out as first basemen or designated hitters.  Molina is the exception that proves the rule.  That is why I bet you will see a bronze statue outside Busch Stadium honoring Molina well before one is cast for Angels owner Arte Moreno's newest prized possession.