Kyle Singler: What His Return Means for the Detroit Pistons in 2012
June 20, 2012

Cue the welcome wagon and roll out the red carpet!
According to Vince Ellis of Detroit Free Press, long lost draft pick Kyle Singler will be rejoining the Detroit Pistons very soon. His season with Real Madrid just ended and he's scheduled to play for the Pistons' summer league team in Orlando.
Singler's decision to play in Spain last August was not an uncommon one at the time. During the lockout many NBA stars decided to play overseas. It was a way for them to secure a steady paycheck and stay in shape while the regular season was on hold.
Most of those players high-tailed it back home when the lockout ended though. Singler was in the minority and decided to play out the season in Spain. This was a controversial decision.
The  Pistons were disappointed and they had every right to be. Joe Dumars drafted him for a reason, and having Singler in Spain wasn't doing the team any good.
Many people in Detroit saw Singler's move as disrespectful. After all, he was scorning the team that just drafted him.  
Singler's motivation for skipping his (true) rookie season may never be known, but that's in the rear-view now. The only question is: What does his presence mean for this current Pistons team?
One thing's for sure, he's not an NBA starter; at least not yet. Although he was a solid contributor in Spain—averaging eight points a game and shooting 54 percent from the field and 43 percent from behind the arc—his performance won't make Spaniards forget about the Gasol brothers anytime soon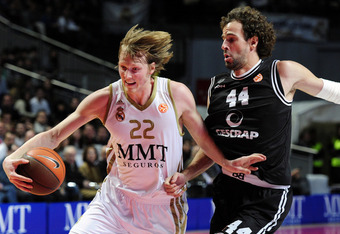 That doesn't mean he can't help the Pistons. 
In fact, as a sixth or seventh man Singler could provide a nice spark off the bench for Detroit. He's an intelligent player and his production in Spain contradicts many of the knocks against him.
At Duke Singler shot low 40's from the field and low 30's from three-point range his senior year. With Real Madrid he vastly improved in both areas.
That will help the Pistons who struggled to make shots all year. They failed to finish in the top 10 in field goal and 3-point shooting percentage.
The Pistons shouldn't overlook Singler's experience either. ESPN's John Hollinger believes he didn't live up to expectations at Duke because he didn't produce "particularly strong numbers". Numbers are only part of the story though. He did lead Duke to an NCAA Championship and was named the Final Four MVP.
He also helped Real Madrid to their league championship, but they came up short losing to Barcelona Regal. The point is that Singler is one of those guys who seems to win wherever he goes.
He'll work hard, do what's asked of him and won't disrupt team chemistry. The Pistons need guys like that.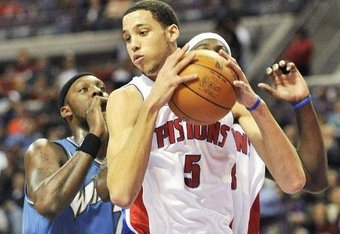 Singler's return might also be an ominous sign for one or more current Pistons. Austin Daye is a player that comes to mind. He significantly regressed last season and turned in the worst year of his career in Detroit.
The team's patience has clearly eroded and with Singler's arrival, it is the perfect time for Dumars to pull the trigger on a deal. It's not out of the question. Dumars was actively shopping him around back in March but according ESPN's Chris Broussard didn't find many takers.
Even if the Piston's decide to keep Daye, with Singler in the fold, playing time will certainly be harder to come by for him. His production, particularly his shooting percentages and rebounding, would be a revelation when compared to the black hole that was Daye's game last season.
The Pistons other underperforming small forward, Charlie Villanueva, should take notice too. He struggled to get playing time when he returned from injury last season and with Singler stealing time he could easily become the wealthiest twelfth-man in the NBA.
The bottom line is that Singler's return is great news for the Pistons. At the very least he'll push other players and make them better. With his return, and the addition of at least two new draft picks, the Pistons could have a very new look next year.
That might not necessarily be a bad thing.