Phil Jackson's 'Clumsy' Comments Prove James Dolan Must Sell New York Knicks
June 19, 2012

Chris Trotman/Getty Images
Leave it to Phil Jackson to tell it like it is and watch as the rest of the NBA turns on his every syllable.
This time, it's his beloved New York Knicks who figure to tremble before the Zen Master.
Or should, if legions of tortured, Orange-and-Blue-clad fans in the Big Apple could have their say.
In an interview with Andrea Kramer for HBO's Real Sports, Jackson claimed that he wouldn't have accepted the Knicks' head coaching job even if the team had offered it to him, rather than removing the "interim" tag from Mike Woodson's title:
There's just too much work that has to be done with that team...It's a little bit of a clumsy team.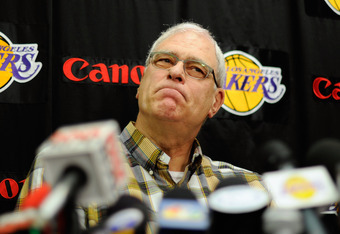 Kevork Djansezian/Getty Images
Just a little bit, Zen Master? How so?
They don't fit together well. (Amare) Stoudemire doesn't fit well with Carmelo (Anthony). Stoudemire's a really good player. But he's gotta play in a certain system and a way.

Carmelo has to be a better passer. And the ball can't stop every time it hits his hands. They need to have someone come in that can kinda blend that group together.
Is that so? I'm sure 'Melo would have no trouble shifting from scorer to facilitator after playing in nine NBA seasons and making five All-Star teams. I, for one, never would've guessed that this group had any issues, what with the rousing success the Knicks have enjoyed since STAT and 'Melo were slapped together at Madison Square Garden in the winter of 2011...
What's that? They've won one playoff game in nine tries? Oops.
To be fair, those two have at least been a part of the first Knicks teams to reach the playoffs in back-to-back years since Patrick Ewing was sent packing in 2000, not long after team owner James Dolan took up a more prominent role in management.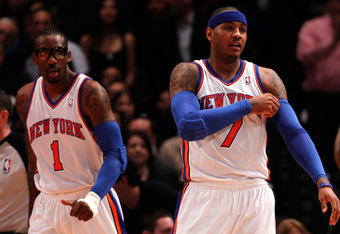 Jeff Zelevansky/Getty Images
And whose idea was it to give up a boatload of solid, young players—who seemed to gel so well under Mike D'Antoni's tutelage—to pry 'Melo from the ever-loosening grips of the Denver Nuggets?
Depends who you ask. Donnie Walsh was the general manager at the time, but as Frank Isola of the New York Daily News noted last February, the deal may well have been Dolan's doing, with a bit of encouragement from old pal Isiah Thomas.
You remember Zeke, don't you? The Hall of Fame player who, as the Knicks' president of basketball operations, acquired such gems as Stephon Marbury, Eddy Curry, Steve Francis, Jared Jeffries and Jerome James before racking up a 56-108 record in two seasons as head coach.
Not to mention, allegedly instigating a brawl with 'Melo's Nuggets in 2006.
Yeah, that guy. He's still buddy-buddy with Jimmy D. It's no wonder the Knicks have qualified for the postseason just five times in 13 seasons since Dolan took over, that their prospects for NBA title contention going forward range between slim and none, and that the greatest coach in league history—who's long been fond of the franchise with which he won two championships as a player—wouldn't take over on the bench if they asked him to.
Simply put, Dolan is as "clumsy" as the team he owns, and the team is currently as "clumsy" as it is due in large part to Dolan's mismanagement.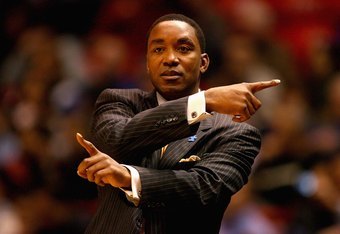 Al Bello/Getty Images
Or clumsiness, if you will.
The solution? Sell the team. The economy may be on the fritz, but the value of and demand for iconic sports franchises is on the rise.
The Los Angeles Dodgers sold for $2.15 billion in April, the New York Yankees were said to be worth even more on the open market when rumors swirled about Hal Steinbrenner putting the team up for sale, and the Knicks, while no longer the most valuable franchise in the NBA according to Forbes, still checked in at $780 million—a 19 percent increase in value from last year, despite a lockout-shortened 66-game season.
Such financial stability in a league fraught with debt, and yet the Knicks still struggled to win even a single game in the playoffs after seven straight years in the lottery on Dolan's watch.
Meanwhile, the Los Angeles Lakers, who climbed ahead of the Knicks on Forbes' list by way of a new TV deal with Time Warner Cable, have won five titles in seven trips to the NBA Finals since Dolan's Reign of Error first began.
I'm not suggesting that Dolan sell off all of the family business. Cablevision, the multi-billion-dollar firm that his father, Charles Dolan, founded in 1973, also owns the New York Rangers of the NHL, the Connecticut Whale of the AHL and the New York Liberty of the WNBA, along with Madison Square Garden and MSG Networks. Managing those properties must be hassle enough for a guitar-playing, ex-drug-abusing trust-fund baby like Dolan.
Why not lighten the load a little bit while fattening his already-hefty bank accounts? Surely, the Knicks could be the first NBA franchise to sell for $1 billion or more. And it's not as though he's been a rousing success as the captain of the Knickerbockers' flailing ship to begin with.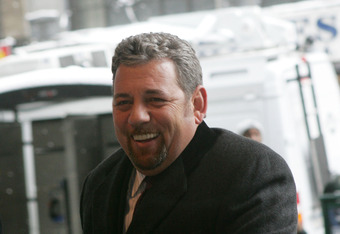 Bruce Bennett/Getty Images
A Knicks sale would be music to the ears of NBA commissioner David Stern, seeing as how he's always looking for ways to make his owners rich by inflating franchise values and whatnot. On top of the obvious benefits of purging a dingbat like Dolan from his league's roll call.
So whaddaya say, Jimbo? Sell the Knicks, ideally to someone who knows a thing or two about how to run a sports franchise some way other than directly into the ground...?
No? Figures. Dolan's probably too "clumsy" to understand when to hold 'em and when to fold 'em anyway.