Los Angeles Lakers Rumors: Why Zach Randolph Is a Must-Sign for LA
June 19, 2012

Harry How/Getty Images
The most recent reports out of Los Angeles are that the Lakers are "committed" to trading Pau Gasol, and that the big man could be headed back to Memphis, the team that sent him packing for the Hollywood Hills in 2008 for the draft rights to his younger brother, Marc, and a bag of chips (see: Kwame Brown, Javaris Crittendon and Aaron Mckie):
According to a June 16 report from Mitch Lawrence of the New York Daily News:
The Lakers are committed to moving Pau Gasol — the fall guy for their second-round ouster against the Thunder and previous playoff failures — even if they have to take back less talent. As long as Heisley retains the Grizzlies, Memphis will always have interest. Heisley has always wanted to bring Gasol back, pairing him with his brother, Marc.
The big iffy here is who the Grizzlies owner will be when the Lakers are ready to make a trade. The Lakers have been shopping Pau for a while, so it shouldn't come as a huge surprise if and when he is traded. But one factor that could determine whether he ends up back in Memphis is whether Heisley is still the owner when the Lakers are ready to pull the trigger. 
According to the report, Heisley has always wanted Pau back in Memphis, which makes sense. I mean, if you dump your high school girlfriend because she's not good enough for you only to later find out she's on the cover of Maxim, you'll probably find yourself making a few calls to see if she's on the market again.
This was the case with Heisley and Pau. Apparently Heisley didn't see in the Spainiard what the rest of the league did and subsequently asked the Lakers for virtually nothing in return. Maybe he didn't want to take on big contracts, opting instead to play it safe and clear cap space. Maybe Jerry West, then the general manager for the Grizzlies, did his old team a solid. But at the very least, Heisley could have—and should have—gotten comparable talent in return.
To Heisley's credit, apparently he saw something in Pau's younger brother, Marc, that many people didn't expect; Marc received his first All-Star nod this past season. 
But Heisley, who may be Pau's best chance at teaming with his brother, may not be the owner of the Grizzlies much longer. Or will he?
In the report, Lawrence initially said that Heisley's sale of the team to Silicon Valley billionaire Robert J. Pera could fall through because Pera's stock had reportedly dropped below the $350 million purchase price that the two sides had agreed upon. But Lawrence then followed up with more information a day later, saying that sources close to Pera confirmed that the prospective owner has a net worth of over $800 million. 
In any case, if Heisley does in fact want Pau back in Memphis and either acquires him in July when teams can start trading or convinces Pera to bring back the big man on his own watch, the Grizzlies will no doubt have a question to answer: what do we do with Zach?
Pau nor Randolph can ride the pine. They're both too talented. The answer is to make Randolph a Laker and send Pau back to Memphis. For all of his defensive deficiencies, Zach Randolph is way too gifted to be a bench player. He could be the best offer the Lakers receive when they shop Pau around the league. 
He would no doubt be an upgrade for the Lakers' frontcourt. The Lakers failed to make any real noise in the playoffs this season in part because Pau was rendered ineffective offensively, failing to score more than 14 points in the series against the Oklahoma City Thunder.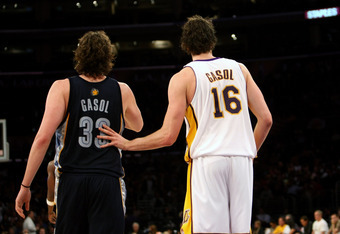 Stephen Dunn/Getty Images
What's even more telling is that in the first-round series against the Denver Nuggets, Pau had two consecutive games where he scored a total of 12 points. One of those instances was Game 6 when he scored a total of three points. He's a seven-foot NBA champion and he scored only three points in a playoff game.
For the playoffs as a whole, his scoring average dipped five points from his regular season scoring average. It's hard argue that he's still the clutch player he once was when he helped lead the Lakers to back-to-back NBA championships in '09 and '10. 
To top it off, Pau is due $40 million over his next two years with the Lakers. If they can no longer count on him in the playoffs, then it's time for the two sides to part ways.
If Los Angeles can find someone to take him, they should feel lucky. And Memphis, being the team that drafted him, could be that franchise to bring him back, pair him with his younger brother and have one of the best frontcourts in the NBA...not to mention the marketing opportunities of two brothers playing as All-Stars on the same team. 
Memphis is a good team but they've got to make a move to take it to the next level. They've proven they're good enough to get to the Western Conference Finals, but are they good enough to do it again? Regardless, are they good enough next season with their current roster to beat the Thunder? Clippers? Spurs? 
Los Angeles, meanwhile, could use a guy like Randolph. At 97 points per game, the Lakers ranked smack dab in the middle of the league in points scored last season. It's not bad, but is it good enough to contend for years to come? There's also the Kobe factor. Bryant accounts for nearly a third of the team's points. How much longer will he be in the league, much less able to score seemingly at will?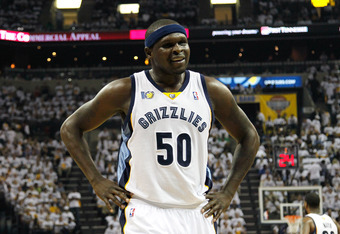 Kevin C. Cox/Getty Images
Randolph is a scoring machine, and the Lakers will need someone to carry the load when Kobe's game inevitably begins to decline. Pairing him with Andrew Bynum would give the Lakers one of the best defensive centers in the league with one of the most gifted power forwards of the last decade.
Yes, I haven't forgotten Randolph ignorance, if not downright negligence, on defense sometimes, but he's become more active since joining the Grizzlies and Kobe would surely call him out if he's slacking. Kobe is going to get the most out of his teammates. We all know he's the best player-coach since Michael Jordan. You have to wonder what kind of player Randolph could become defensively under Bryant and Coach Mike Brown, not to mention playing alongside a defensive specialist like Ron Ar...Metta World "Peace."
If the Lakers are really serious about moving Pau, they should consider the qualities that Randolph could bring that Pau failed to provide at critical moments. And with Randolph in Los Angeles, the Lakers could be the powerhouse of old if, oh, I don't know, Superman decides to leave Disney World.