Are the Kansas City Chiefs Flying Under the Radar?
June 19, 2012

Jamie Squire/Getty Images
Despite being completely ignored by Peyton Manning this off-season, the Kansas City Chiefs have drastically improved their roster. 
Yet no one seems to notice. 
ESPN.com pro football writer John Clayton has gone through each AFC team and given his take on what their records might be. He sees Kansas City going 7-9. 
A losing record? Did the Chiefs not obtain one of the best offensive lineman in the league? Did the Chiefs not get a bruising and motivated running back to help Jamaal Charles carry the load? Did the Chiefs not sign a solid cornerback to compliment Brandon Flowers?
ESPN.com's AFC West blogger, Bill Williamson, doesn't particularly care for Clayton's opinion either. Here are a few things Williamson has said about the Chiefs. 
I have to respectfully -- but vehemently -- disagree with Clayton on this one. While Manning overshadowed the Chiefs this offseason, I think Kansas City had a top-five offseason in the NFL. This roster is stacked. 
Kansas City's roster is much stronger than it was in 2011, when the Chiefs were riddled with key injuries. Kansas City lost franchise building blocks such as Eric Berry, Jamaal Charles and Tony Moeaki very early. If such young players can return to where they were pre-injury to go along with an extremely strong offseason for Kansas City, this roster could be one of the most talented and deepest in the NFL.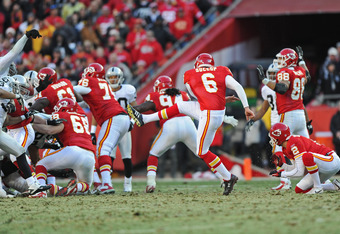 Peter Aiken/Getty Images
On how the success of the team depends on QB Matt Cassel:
The Chiefs showed confidence in Cassel this offseason when they built around him in free agency and the draft instead of replacing him. Kansas City has put together a strong team, one that appears to have few holes. It is set up to make a playoff run. 
I try and be as objective as I can be when it comes to football. The Chiefs are my favorite team, but when I think they are terrible, I don't sugarcoat it. When I think they are good, I think so because they made good decisions, not because they are my favorite team.
So, I think I can be unbiased when I think the Chiefs are going to be marginally better than many people think. 
Let's go over last season real quick. The Chiefs were a blocked kick away from winning the AFC West. Despite losing three big play makers early in the season and the starting quarterback midway through the season, the Chiefs were still contenders. 
Honestly, what makes people think they won't make noise this season? They get back Charles, Moeaki and Berry. They made great acquisitions this off-season. There is talent laden throughout this roster. 
I think the team still needs some work to be considered elite. There is no denying that. But they are doing all the right things to build themselves into a championship caliber team. They are doing it much faster and with more efficiency than people think.