A Post-Minicamp Look at the Detroit Lions' 2012 Roster
June 19, 2012

Ronald Martinez/Getty Images
With the Detroit Lions' 2012 minicamp done and some free time to spend before the regular training camp, it's time to take a look at how the roster stands.
Offense
Quarterback
We all know Matt Stafford is the guy here, and he looks great so far—100% healthy and ready to let it rip.
Shaun Hill is who we thought he was—a rock solid backup who can step in long term if need be. Is he a drop off from Stafford? Of course. He can cover the job if Stafford goes down, and it wouldn't be a disaster as it was for Chicago last year.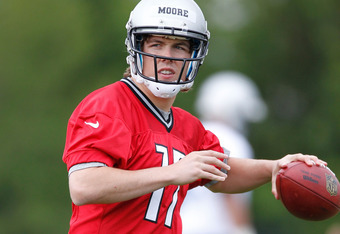 Gregory Shamus/Getty Images
Kellen Moore has some issues. The team may not be worried about his lack of arm strength, but since he's third string they have that luxury. Let's be honest as well—you can do a lot with a noodle arm.
Just ask Chad Pennington.
Still, Moore is clearly a project they hope won't be needed anytime soon.
Running Back
Well, insofar as health, Mikel Leshoure and Jahvid Best look good. Unfortunately they will lose Mikel Leshoure for two games—one is against the Rams, one against the 49ers. Not having Leshoure will hurt, but perhaps less since Best appears to be 100 percent.
If both backs can stay healthy, this could be a very productive backfield.
So far, so good.
Wide Receivers
Calvin Johnson is unstoppable.Part of that might be the secondary (we'll get to them), but he's ridiculously talented. He and Stafford are ready to go now, and the season can't get here fast enough for them.
Nate Burleson looks solid as usual the last few seasons. He has clearly aged, but he does a good job of being where Stafford needs him to be.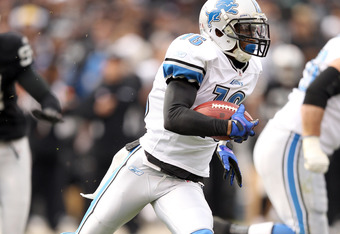 Ezra Shaw/Getty Images
Meanwhile, Titus Young seems to have taken his recent issues and turned them into a positive. We'll see if it holds into the season, but right now he is totally focused and that only means good things for the Lions offense.
Ryan Broyles is still healing, but it looks good for him to have some sort of participation this coming camp and this season.
Overall, it's a great group that looks poised for big things in 2012.
Tight End

Brandon Pettigrew dropped more than a few balls this last week, but he makes so many ridiculous catches that it was sort of a wash. I don't expect it to be an issue, as he also had a high volume of balls thrown his way, something which will probably not be the case this season.
He'll see plenty of action, just not an overwhelming amount.
Tony Scheffler has been doing well and looks poised to have a pretty good season. How they will use him with Pettigrew and the receiving options they have is hard to say, but he is giving them plenty of options.
Offensive Line

Riley Reiff had an impressive week, although many of his reps were with the second line. On those reps though, he was the left tackle, so we have an idea of what the long-term plans are around him, not that they should be surprising.
The rest of the line looks fine—as has been the case the last few years. It's a good line, not a great one, and they do a more than serviceable job at this point.
The hope is that Reiff makes them more than just serviceable.
Defense
Defensive Line
Justin Rogers made a note that the defensive line had a bunch of offsides calls in practice. He points out that with aggressiveness of the players and the reliance on jumping the snap count, it's going to happen but is something they want to tighten up.
The team as a whole needs to watch the penalties—and while it's just camp, with Titus Young spiking a ball after a catch and Aaron Berry punting a ball after getting an interception, you wonder if flag discipline is again going to be an issue.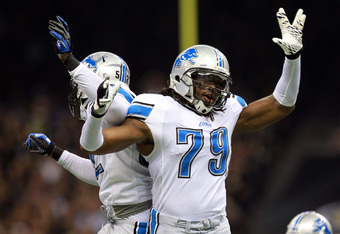 Ronald Martinez/Getty Images
The line is supposedly putting together some new looks, but they aren't allowing the media to talk about it, so what that looks like is impossible to say. They have been talking about moving Ndamukong Suh around, and that's nothing but good.
Keeping him in one place just pins him down and makes it easier to counter him.
With Cliff Avril sitting things out, Willie Young is making some noise. Young has a nice toolbox of pass-rush skills, and some extra time could mean a jump in his overall numbers. The better he plays, the more interesting the contract issue with Avril gets.
Rookie Ronnell Lewis also had a good camp, and his transition to defensive end from linebacker appears to be seamless.
This unit has tremendous depth. You don't want to lose Nick Fairley for an extended period of time, but there are enough good players to make the loss hurt less.
Linebackers
The linebackers did fine last week, and the depth looks good. The biggest story seems to be the progression of fifth-round pick Tahir Whitehead.
Whitehead was mostly running with the second team but showed off some incredible speed and strength. There's a bit of a logjam at outside linebacker, so it's hard to see how he'll get on the field, but if he has as strong a camp as he did minicamp, the Lions will find a way to get him there.
Secondary
Here's the problem with Calvin Johnson being—well, Calvin Johnson. You can't figure out whether he is just being him or if his ability is even more impressive because the secondary is bad.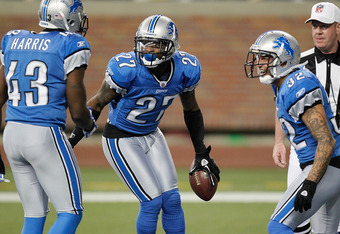 Gregory Shamus/Getty Images
Don't get me wrong—he's the best in the league. It's just hard to get a firm grip on the secondary and its issues when Johnson blows them up a bunch.
How much is them, and how much is him?
Jacob Lacey had a solid week and looks to be the favorite for the nickelback spot, per Josh Rogers of MLive.com. Chris Houston is a solid corner, and Aaron Berry has his moments and I'm firmly of the opinion that he will have a breakout year.
As a whole, this unit needs to step its play up, as it was beaten too often last year.
Amari Spievey was a prime culprit last year and will have to pick up the pace, though there isn't so much talent behind him that the Lions can just bench him. Still, watching game film on the Lions, his mistakes stand out, and he has to cut down on them.
Conclusion
Overall this is a pretty solid roster, the biggest questions being the secondary and whether the running backs can stay healthy.
Aside from those two though, there is a high level of ability on this roster, and it should be an exciting year for the Lions and their fans.