NY Mets: R.A. Dickey's Phenomenal Dream Season Continues
June 19, 2012

Mike Stobe/Getty Images
Who in the world could have predicted this?
There is a good possibility that even R.A. Dickey didn't think that he would be having this great of a season.
Tonight, Dickey made history today by throwing his second straight one-hit complete game shutout against the Baltimore Orioles in a 5-0 victory. He is now 11-1, which leads the Majors, and has and an unreal ERA of 2.00. 
After writing his memoirs Wherever I Wind Up: My Quest for Truth, Authenticity and the Perfect Knuckleball and climbing Mount Kilimanjaro for charity it seems as if Dickey is one with the world and the baseball gods.
Dickey's has performed lights-out throughout the season and especially as of late.
In his last six starts, he has only allowed one earned run in 48.2 innings pitched. The last time he allowed an earned run was 42.2 innings ago.
His performance is the Mets season personified.
No one really expected either of them to do anything significant this season, but both R.A. Dickey and the Metropolitans have made a lot of noise in the MLB with what seems to be limited talent.
Fortunately for the Mets, Dickey has been lights out and has been the ace of their pitching rotation. Mets fans haven't seen a pitcher this dominant since Dr. K in 1985 when he went 24-4 with a 1.53 ERA.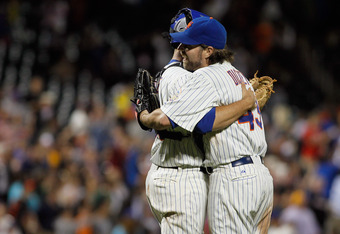 Mike Stobe/Getty Images
While not many people are expecting him to have these type of numbers at season's end, he has demonstrated the ability to absolutely take over games.
With the All-Star Game less than a month away, there has to be serious discussion on the possibility of him starting this year's mid-summer classic in Kansas City.
If he continues his streak of dominance, he will deserve serious consideration for the NL Cy Young.
One thing is for sure, New York Mets fans are delighted and excited every time R.A. Dickey takes the bump.
Moreover, baseball fans have to be excited for him and wish Dickey continued success for this journeyman and overall class act.
Erick Fernandez is the creator of I Want to Thank My Hood & My Psychiatrist
Follow Erick Fernandez on Twitter