Philadelphia Eagles: Why DeSean Jackson Will Go off in 2012
June 20, 2012

Rob Carr/Getty Images
2011 was a disaster for DeSean Jackson and the entire Eagles organization. Jackson was often more concerned with his contract negotiations than he was with helping his team win games. Nonetheless, the star wideout received his sought after payday. Both he and the Eagles should reap the benefits from this.
Jackson acted immaturely last season, but he did deserve a new contract. Under the CBA, players with a third concussion automatically must sit out for an extended period of time. Jackson already has had two "official" concussions in his career.
In 2011, Jackson posted his lowest yards receiving and receiving touchdowns since his rookie season. He also got benched by Andy Reid against the Seattle Seahawks for a lack of effort.
Nothing is guaranteed in the NFL and the risk of injury can weigh on players. This certainly had an effect on Jackson and his play. With his new financial stability and the Eagles' long-term commitment to him, it should be expected that he bounce back in a huge way. 
Ashley Fox of ESPN spent a day at Eagles minicamp. Jackson stated, "I expect a big year for myself." Dan Graziano, ESPN's NFC East blogger, reports that, "Jackson knows that what held him back is no longer an issue." 
Certainly, these are encouraging signs for Eagles fans. When Jackson is dialed in, he's one of the most explosive players in the NFL. That was a factor that the Eagles' offense desperately missed last season.
There are several other reasons besides Jackson's contract which should lead to a bounce back campaign in 2012. Jeremy Maclin's health was a major issue for the Eagles last season. He had an offseason cancer scare that hindered his ability to be in game shape. He also suffered multiple nagging injuries which slowed him throughout the year.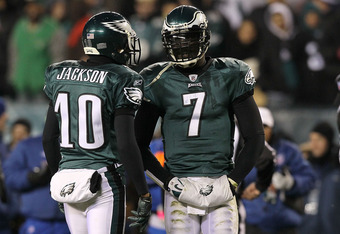 Jim McIsaac/Getty Images
Reports from Eagles minicamp are that Maclin is in great shape. With Jackson and Maclin at full strength, Michael Vick's job will be that much easier.
Obviously, the biggest key to Jackson's success is Vick's health. If Vick can play (almost) a full season, Jackson should be poised for his best season yet.
The Eagles offensive is very explosive. Jackson should see more single coverage this season with Maclin back and healthy. With LeSean McCoy and Brent Celek added to the equation, there's no telling what this offense can accomplish.
However, Jackson is the key. His ability to spread the field keeps the defense honest, even when the play is not designed for him. If Vick stays healthy and Jackson stays motivated, he will have a huge season.