Breaking Down What the Carolina Panthers Can Expect from Luke Kuechly
June 18, 2012

Brian A. Westerholt/Getty Images
What should a team expect from a linebacker they take in the top 10 of the NFL draft? Usually, elite physical tools and few, if any, weaknesses.
A study of Luke Kuechly's film will impress until one remembers that he was the ninth-overall pick. He looks like a very good NFL starting linebacker, but there are reasons to think that he won't deliver on the lofty expectations that come with the rare designation of a linebacker drafted among the elite overall prospects. For this article, I used Kuechly's tape vs. Clemson, maybe the most athletic team he faced in 2011:
Let's get a couple of things out of the way that are big pluses on Kuechly's scouting report. He's a terrific form tackler. While he's not a big hitter, he's rarely pushed back by a ball-carrier, almost always stopping forward progress on contact. Kuechly can drop into coverage like a pro and cover a lot of ground. His read and react skills are top-notch, and he is clearly an intelligent linebacker.
Now, we can examine some of his flaws. First, Kuechly's approach to encountering blockers. He is not a classic stack-and-shed inside linebacker. He prefers to go around blocks instead of taking them on. This instinct can lead to bad results. Kuechly is met by an offensive lineman trying to pave the way for Andre Ellington: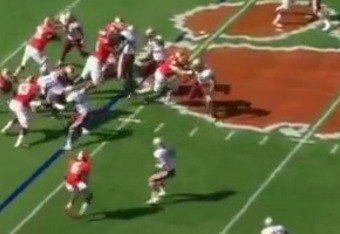 Kuechly attempts to evade the blocker, which allows the lineman to easily wall Kuechly out of the play, giving Ellington the second level clearance for extra yardage.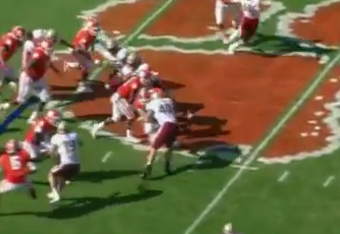 Kuechly isn't a complete loss in this department. He successfully handfights to keep a blocker off of him as Ellington approaches: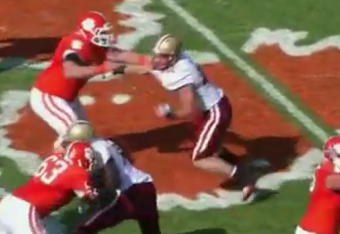 This enables Kuechly to stone the running back in the hole, even while the blocker is attempting to move him: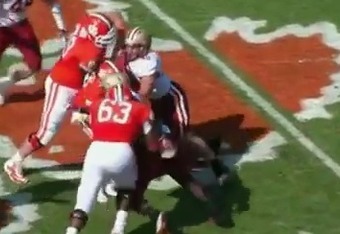 Kuechly is an intelligent player with very high awareness of the action around him. However, this awareness sometimes causes him to act too decisively and take himself out of plays.
First, on this touchdown, Kuechly is caught watching the running back flaring out of the backfield instead noticing the tight end breaking behind him into his part of the end zone: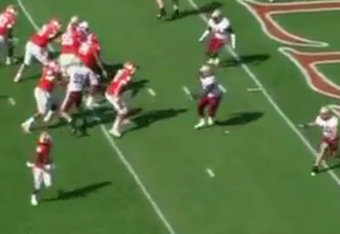 Then, on this play deep into Boston College territory, he bites on a hesitation in a receiver's route, allowing him to get behind Kuechly and make a play: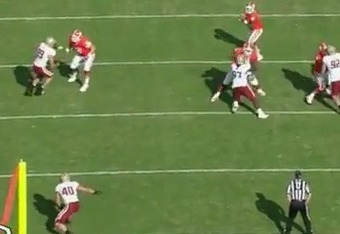 The purpose of this exercise isn't to paint Kuechly as an overrated player. He was one of the safest picks in the draft. Still, the Panthers will have to work with him to smooth over these rough patches in his game to truly get top-10 value from their 2012 first-round pick.