The Yankees Bullpen: Surviving the Loss of Mariano Rivera and David Robertson
June 18, 2012

Greg Fiume/Getty Images
In football, the saying is that the best defense is a good offense.
In baseball, the best bullpen might be a good starting rotation.
So if Yankee fans want to credit anyone for the team's recent success and rise to first place in the American League East, then they should tip their caps to their team's starting pitchers and the National League East.
The Yankees began this week on a nine-game winning streak after having swept three-game series against the Mets, Atlanta Braves and Washington Nationals, giving them a 10-2 record in inter-league play.
Yankees starters Hiroki Kuroda, Phil Hughes, Andy Pettitte and Ivan Nova have flourished against the National League, pitching deep into games. And there is no better way to take the heat off the bullpen than by reducing its workload.
For their part, the relievers have also been doing a good job. That was evident in last Saturday's 14-inning victory against the Nationals, when four relievers held the Nats scoreless over the last six innings.
That included two shutout innings from Freddy Garcia, who has been pitching well in relief, and Rafael Soriano, who picked up his 12th save of the season.
Soriano has been the key since Rivera went down with a torn ACL he suffered while shagging flies in Kansas City and Robertson missed a month with a strained oblique. In 2011, Rivera and Robertson were virtually untouchable as closer and setup man.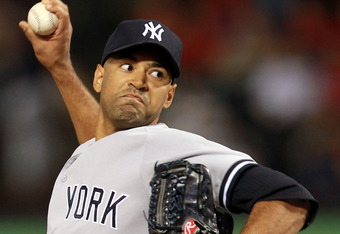 Ronald Martinez/Getty Images
Soriano was looking like a pricey seventh inning pitcher until the injuries struck the bullpen. After Robertson had mixed results in a short stint as closer before getting injured, Soriano stepped in and has done a terrific job.
He may give Yankee fans more anxious moments than Rivera ever has, but, given the injury and effectiveness issues many closers have had this season, Soriano has proved to be a luxury other teams could not afford.
Still, it is difficult to envision Cory Wade, Clayton Rapada and Cody Eppley performing as they have if not for the starters' recent success.
The Yankees knew what to expect from CC Sabathia, who eats innings and can be penciled in for a quality start every time once the weather warms up.
Andy Pettitte has given the rotation stability and a No. 2 starter. He is averaging seven innings in his seven starts. And the success he and Sabathia have had is rubbing off on the other starters.
Kuroda has won three games in a row and given up four runs in 28 innings in his last four starts.
Hughes has won his last four starts and allowed only four earned runs in his last three starts, spanning 21.1 innings.
Nova has been the hottest of all the starters. He is on a five-game winning streak and has given up only two earned runs in his last 22.2 innings, also spanning three starts.
 With everyone in the rotation providing quality starts averaging almost seven innings, the road to Soriano has been a short trip. 
With the Braves and Mets on the schedule this week, the Yankees' success against the NL East may well continue. And it might enable them to build a cushion against their other division opponents until the going starts getting tougher again.