David Robertson: How Return to Yankees Impacts the Entire Pitching Staff
June 19, 2012

Mike Stobe/Getty Images
The recent return of David Robertson to the New York Yankees provides the team's already strong bullpen with an added weapon, and it could mean the difference between a wild-card berth and a division title.
After pitching a scoreless two-thirds of an inning against the Seattle Mariners on May 11th, Robertson suffered an oblique injury that landed him on the 15-day disabled list for the Bombers. From that point on, manager Joe Girardi had to utilize different relievers in matchup situations during eighth innings.
To his credit, Girardi has been successful in manipulating his bullpen, as it has become known for its ability to shut down opponents in the next to the last frame of a ballgame.
During Robertson's absence, the team yielded a total of three earned runs in eighth innings—all in losses.
In games where the team had a lead going into the eighth, the bullpen did not yield a run over 11.1 innings pitched.
All was not candy and roses for the Bombers, though. Their success without "D-Rob" came at a price. 
In the 32 games prior to his injury, the relief corps of Boone Logan, Cory Wade, Clay Rapada, Cody Eppley, David Phelps and Freddy Garcia made a total of 58 appearances. That is an average of 1.81 apps per game, and they held a 2.62 ERA during that time.  
While Robertson was out, that same group made an average of 2.03 appearances per game (61 apps over 30 games) with a 2.92 ERA.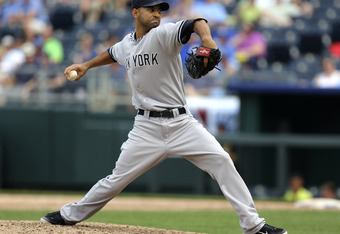 Ed Zurga/Getty Images
The bullpen was getting used more with Robertson hurt, but it was giving up runs at a higher rate. One conclusion could be that the more frequent workload was taking its toll on the relievers.
What about the starters?
The results for the New York Yankee rotation show a very different perspective. With Robertson's presence in the bullpen, Yankee starters averaged 5.82 innings per start with a 4.70 ERA. 
On the flip side, without D-Rob available, the "Fab Five" went an average of 6.69 innings each time they took the mound and had a very respectable 3.54 ERA.
Even though it would appear that without Robertson to fall back on late in a game, the starters were forced into stretching their innings and making more quality outings, the question remains as to what the long-term effect will be due to the extra innings pitched.
At the very least, Robertson's return brings with it some normalcy and stability to the Yankee bullpen.  Pitchers who were intended to act as long relief (Wade, Garcia) or matchup relief (Logan, Eppley, Rapada) can return to those roles, and Girardi will have less concerns in bridging the gap from the starters to the closer.