New York Giants: Best and Worst-Case Scenarios for 2012
June 18, 2012

Jamie Squire/Getty Images
Broadly, the best-case scenario for any NFL team is an obvious one, but in order to accomplish the ultimate goal of winning a Super Bowl, a multitude of positive scenarios have to come to fruition throughout the season.
Looking specifically at the factors that are most in flux, here are the best-case scenarios for the New York Giants' 2012 campaign:
David Wilson emerges to spell Ahmad Bradshaw immediately
 The Giants had the worst running game in the league last season, and a lot of that had to do with the fact that Brandon Jacobs struggled to complement Bradshaw in satisfactory fashion. As much as Bradshaw's production is key, I think that production will come when he can be relieved by a quality back in order to stay fresh throughout the year.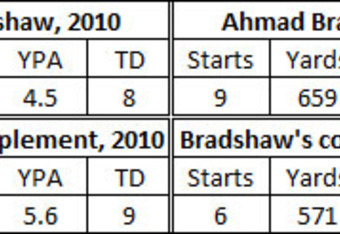 That's why the Giants used a first-round pick on Wilson, who has been impressive thus far.
In order to repeat, the Giants have to improve, not maintain the status quo, which means they have to get more support from the running game this year.
Rueben Randle wins the No. 3 wide receiver spot
The Giants will be happy so long as anyone emerges this summer to claim the job in forceful fashion, but they'd really love it if their second-round pick out of LSU were that guy.
With Mario Manningham and Jake Ballard gone and Hakeem Nicks a bit of an injury question mark, they'll need some serious productivity out of whoever becomes that guy.
Terrell Thomas returns to his 2009 form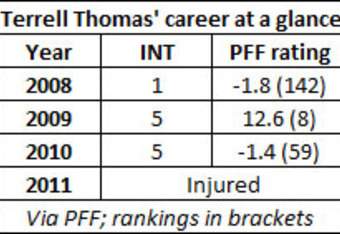 If there's a middle-case scenario here, it's simply that Thomas returns from injury and stays healthy while providing somewhat of an upgrade over the departed Aaron Ross opposite Corey Webster.
The worst-case scenario is obvious, as Thomas is coming off a torn ACL and hasn't played football for 18 months.
But the best-case scenario involves Thomas coming back stronger than ever (at 27-years-old) and turning into the stellar corner he was supposed to be when he broke out in his first year as a starter in '09.  
Other best-case-scenario events: Prince Amukamara lives up to expectations, Jason Pierre-Paul makes a run at 20 sacks and Bear Pascoe seamlessly replaces Jake Ballard as the starting tight end.
Result of this scenario: The Giants win their third Super Bowl in six years.
-----
And in the interest of being fair and balanced, we give cynics their fuel with the worst-case scenarios: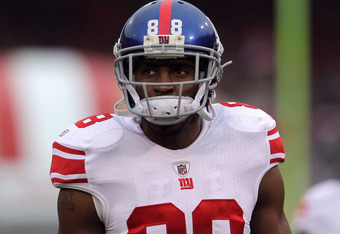 Doug Pensinger/Getty Images
Hakeem Nicks struggles with foot issues
The broken bone in Nicks' right foot is expected to heal by mid-August, which would give the No. 1 receiver a few weeks to prepare for Week 1. But these things are unpredictable and have been known to linger. I'm not a doctor (yet) but I've been told that this is the kind of thing that can re-injure easily.
Receivers need their feet; they use them to run.
And with no clear-cut No. 3 receiver in place, the passing game would suffer greatly if Nicks were to miss an extended period of time. Remember how badly Eli Manning struggled with interceptions in 2010? A lot of that was on his receivers. Manning can only do so much if the guys he's relying on aren't on the field.
Osi Umenyiora and Justin Tuck fail to stay healthy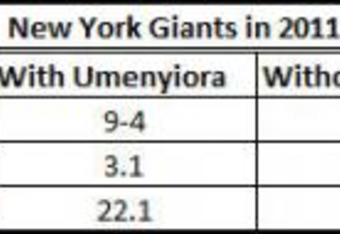 They won the Super Bowl last year despite the fact that Tuck and Umenyiora missed a combined 11 games due to injury, but that doesn't mean they can afford to be without either player.
The pass rush is at its best when both of those guys are in the lineup. When the Giants won five consecutive do-or-die games to finish last year, they had Tuck and Osi for all of them, amassing 11 total sacks during that run. This year, they'll need that duo to be healthier than they were in 2011.
Will Beatty gets hurt again
It's not like Beatty was having an All-Pro season before going down midway through 2011, and technically the offense improved in his stead. But that, I believe, was coincidental. Without Beatty at left tackle, the Giants' line would again be a mess.
There's very little depth on the line, so David Diehl—who really struggled last year—would have to move back to the left side and unknowns would have to be relied upon. Manning survived a ton of pressure last year, but eventually his luck could run out.
Other worst-case-scenario events: Terrell Thomas re-injures his knee, Ahmad Bradshaw gets overworked again, Jason Pierre-Paul hits a wall and Prince Amukamara becomes a bust.
Result of this scenario: They finish 7-9.
You've surely noticed how prevalent injuries are in the worst-case scenario and that rookies play a large role in the best-case scenario. In other words, New York's fate in 2012 is very much out of the hands of the majority of the men who led the team to another championship in 2011.
In the best-case scenario, they get even stronger this year, which enables them to repeat. In the worst-case scenario, luck is simply not on their side.