Pittsburgh Steelers Backups Thrust into Starting Roles Need to Step Up
June 18, 2012

Jeff Gross/Getty Images
Transition can be difficult to deal with, and the Pittsburgh Steelers have undergone a number of changes that will give the team a different feel this season.
Pittsburgh's starting lineup rarely faces many changes, but this year is an exception as there could be as many as seven new starters.
The offense will face many of its changes along the offensive line, with left tackle, left guard and right guard all up for grabs. While this is the most transition that any unit will face, no backups are expected to step up in the starting role.
Expect second-round selection Mike Adams to start at left tackle, and if he doesn't, it will be Marcus Gilbert (with Adams at right tackle), Willie Colon at left guard and first-round selection David DeCastro at right guard.
The other areas of the team will depend on reserves to have an increased role as James Farrior (released) and William Gay (signed with the Arizona Cardinals) left holes at inside linebacker and cornerback, respectively.
Knee injuries to Casey Hampton and Rashard Mendenhall likely means that both players will not be available to start the season.
That is four additional starting positions to fill. For a lot of teams, that would be a major concern, but that's not the case for the Steelers.
Mike Tomlin has a saying, "The standard is the standard." In other words, when a backup steps into a starting spot, they are expected to perform at a high level.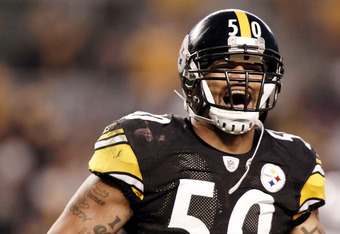 Jared Wickerham/Getty Images
Is this realistic? No.
The Steelers aren't going to have Byron Leftwich or Charlie Batch come in and play to Ben Roethlisberger's level, and certainly no backup safety can do what Troy Polamalu does on the field.
However, it does not mean that they have to be a liability either, and for the most part, the Steelers backups have performed well when given the opportunity.
The most experienced option that they have is Larry Foote, who will start in place of Farrior.
Foote has started 102 games in 10 seasons (nine of them with the Steelers) and he may know the defense better than any other defender. This has given linebackers coach Keith Butler complete confidence in Foote.
"Larry Foote knows this defense in and out," Butler said (via the Pittsburgh Tribune Review). "He's been in this defense for 10 years. If anybody knows this defense, it's Larry Foote. Larry Foote is a very capable starter for us, and there won't be much drop-off by having him in there."
Now will Foote wow anyone with splash plays? No, but he will provide a veteran presence on the field and will always be in position.
The other two defensive positions do not have the luxury of being replaced with such an experienced veteran.
Steve McLendon will be the likely replacement for Hampton at nose tackle. He has earned that position.
McLendon played well in his backup role last season, but still needs to show improvement as he enters the starting lineup.
According to Jim Wexell of Steel City Insider, McLendon weighs 327 pounds now (up from the 280 pounds he was as a rookie), and he is known as one of the strongest players on the team.
This, along with the experienced he gained as Hampton's primary backup last season, will serve McLendon well as he anchors the Steelers' three-man front.
The opening at cornerback is not as clear-cut, as Keenan Lewis will battle with Curtis Brown and Cortez Allen to fill the void left by Gay.
Lewis played well as the third cornerback last season and is the favorite to earn the starting job. But Brown and Allen will provide a big challenge as both excelled in their roles as rookies.
Pittsburgh may find themselves better on defense with the backups taking on a starting role this year.
Foote was already a part-time player last season and should actually be an upgrade over what Farrior offered last year.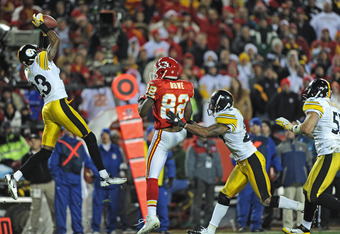 Peter Aiken/Getty Images
There is also a chance that Foote will split time with rookie Sean Spence, who is very athletic and instinctive and will be an excellent linebacker to help out in coverage.
McLendon's presence in the middle will be a change of pace from the massive Hampton.
Hampton was not as effective last season and did not command the double teams that he has in the past. McLendon's raw power should help him be a disruptive force in the middle. Though he will not be a Pro Bowler, McLendon's younger legs will be a big help.
The three-way battle at cornerback puts the Steelers in really good shape as all three players are more talented than Gay but just lacked experience. All three will see more playing time and that can only be a good thing.
The only offensive spot where a backup needs to step in is at running back, where Isaac Redman will fill in for Mendenhall. Redman has made it clear that he is ready to prove himself.
"Ever since I've been here, I've been doubted by everybody except the players and coaches," Redman told the Pittsburgh Tribune-Review. "They understand the type of player I am, and it's why they've kept me around. They see something in me, so I never doubt myself. I'm ready to get out there. Hopefully, I'll surprise everybody."
I do not think that statement is entirely accurate, as many fans wanted Redman starting instead of Mendenhall last season. He offers a power style of running and rarely loses yards, which is exactly what this team needs as it puts more of an emphasis on the running game.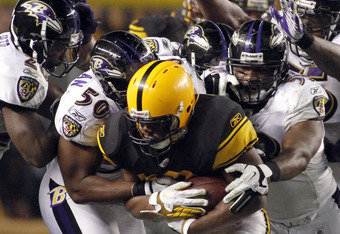 Justin K. Aller/Getty Images
All Redman will have to prove is that he can carry the load for a full season. He has never had to be a workhorse and needs to demonstrate that he won't get worn down. Chances are he will do just fine.
Pittsburgh has positioned itself well with the development of its backups. They put in their time and are now ready to step into the starting lineup.
While it may be a transition year, it is not a rebuilding season. Pittsburgh just reloads, and it is because of quality depth and development that they are contenders virtually every season.
Follow me on Twitter @ChrisG_FC