College World Series 2012: Florida Will Shake off Early Loss to Win Title
June 17, 2012

Ronald Martinez/Getty Images
An opening-game loss in the College World Series has sent Florida to the brink of elimination, but the Gators will regroup to win the whole thing.
This team has a lot to be proud of this season, reaching the sport's final stage for the third year in a row. However, the amount of talent on the roster has raised expectations to the point that simply reaching the College World Series is not good enough.
Everyone in the organization wants a championship.
With three All-American pitchers and a ton of players selected early in the MLB draft, they should expect nothing less.
Unfortunately, a loss to conference rival South Carolina puts the Gators one loss from going home. The Gamecocks jumped on starter Brian Johnson, and the offense could not bring enough people around to get back in the game.
The team now has to win four straight games to advance to the final round. The good news is they have the pieces to get it done.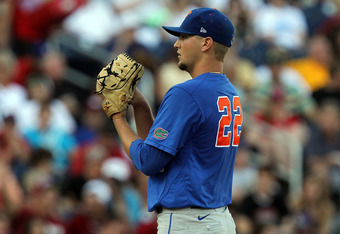 Ronald Martinez/Getty Images
Starting with Hudson Randall, the rest of the rotation is as solid as they come. In addition, the bats are certain to come alive and give the pitchers a little more breathing room. 
A win over Kent State will set the Gators up for a rematch with South Carolina or a battle with Arkansas. Either way, the teams have a level of familiarity after competing in the Southeastern Conference. 
Even with a pedestrian 4-4 combined record against these teams, the veteran hitters on Florida should be able to use their experience to light up the scoreboard.
If players like catcher Mike Zunino and outfielder Preston Tucker play to their abilities, there is no one in the tournament that can defeat this group.