Has Dwyane Wade Replaced LeBron James as the NBA's Biggest Villain?
June 18, 2012

When LeBron James first announced that he was taking his talents to South Beach, he instantly became the most reviled figure in the NBA.
Less than two years later, he isn't even the most hated person on his team.
That title now belongs to Dwyane Wade—a man who has firmly entrenched himself as the league's most notorious villain seemingly overnight. Wade's on-court persona this season is a marked departure from the cordial, engaging figure that we often see away from the arena.
Initially, it seemed as though the vitriol directed at Wade was merely collateral damage related to "The Decision." But after a number of incidents over the past several months, it's clear that the Miami Heat superstar is now public enemy No. 1 in the Association.
It's difficult to pinpoint exactly when the narrative changed on Wade.
Prior to the infamous welcoming party/light show/pose-fest announcing the formation of Miami's "Three Kings," Wade was generally regarded as a mild-mannered, ultra-competitive talent who appeared to be a bit more accessible than your typical NBA player.
These days, the Heat's all-everything shooting guard might very well be the most ruthless Miami resident since Tony Montana ran the streets of Little Havana.
Wade has been staring down opposing players and making snide remarks in postgame press conferences for the better part of his career. In the run-up to the 2012 NBA Finals, however, he's done everything in his power to disqualify himself from any "Sportsman of the Year" awards.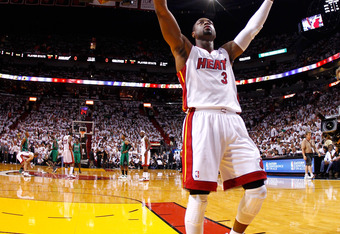 Mike Ehrmann/Getty Images
In the first round, Wade tossed an opponent's shoe toward the stands and earlier this season, he gave Chicago Bulls guard Rip Hamilton a forearm shiver that would have made Ric Flair proud.
And we can't forget his body check on Indiana Pacers guard Darren Collison in Game 2 of the Eastern Conference semifinals. If that had happened in the NHL, Wade might have earned himself a game misconduct penalty.
While it doesn't excuse his actions, perhaps this is all nothing more than a well-calculated gambit by Wade. After all, the 6'4" guard told the South Florida Sun-Sentinel in December that he would gladly assume the villain role this season if it meant that James would become more assertive on offense.
Ever since linking up in Miami two summers ago, Wade and James have had something of a big brother/little brother relationship. The 30-year-old Wade has been effusive in his praise of his 27-year-old running mate, often saying that he wants to win a title more for LeBron than he does for himself.
It isn't far-fetched to think that Wade—a man somewhat insulated from criticism thanks to his 2006 NBA championship ring—offered to shoulder the burden of the slings and arrows that would be directed toward his Heat teammates this season.
Or maybe it isn't that at all.
Maybe, just maybe, somewhere in those deep, dark recesses of Wade's soul lies the heart of someone who simply relishes in being the man that everyone loves to hate.
This is, after all, the same player who mocked Dirk Nowitzki's sickness before Game 5 of the NBA Finals last June. And less than four months later—in the midst of a contentious labor dispute—Wade and NBA commissioner David Stern had a heated exchange that nearly led to the demise of the entire 2011-12 season.
In a late December contest against the Charlotte Bobcats, Wade hit a gorgeous, game-winning bank shot with 2.9 seconds left that gave the Heat a 96-95 victory. Following the basket, he noticed Carolina Panthers quarterback Cam Newton sitting at courtside and mimicked Newton's "Superman" touchdown celebration.
There was only one problem with Wade's demonstration, however: Superman happens to be a hero.
While Wade is more than capable of providing his fair share of heroics once he takes off his (lensless) glasses, he makes little effort in presenting himself as a model citizen on the court. As we've seen this season, he's grown quite comfortable in his role as the NBA's most despised villain.
Say hello to the bad guy.