Kansas City Chiefs: Happy Father's Day, Dad
June 17, 2012

I wake up every morning understanding how lucky I am for getting far in my life because of my father, Ali. He is a father who teaches his two sons all of the right things to help them both become a better man. I was thankful for that as a young boy, yet still learn from him today.
One thing that has brought my father and I close is the game of football and the Kansas City Chiefs.
When my family and I, prior to my brother's birth, moved to the United States, I was only three years old. My dad heard about the game of football at one point in his life, but it never appealed to him. He grew up watching soccer and boxing because of his dad.
While watching my first Chiefs game in 2002, my dad was beside me and he had no idea what was going on, nor did he care. I was trying to learn the game.
Words can't describe how confused I was when the clock hit zero and the officials threw a flag on Cleveland Browns linebacker Dwayne Rudd for throwing his helmet in celebration when he thought Chiefs quarterback Trent Green was sacked. While I was still curious as to why a team was being given one more play with no time on the clock, Chiefs kicker Morten Anderson nailed a 30-yard field goal to win the season opener, 40-39.
Eventually, my dad and I got a better understanding of the game.
In 2003, an old friend of mine invited me to come along with his family for the Chiefs and Pittsburgh Steelers game in Week 2. Being my first Chiefs game, I was excited as I knew how the game worked. I also knew a lot of the names.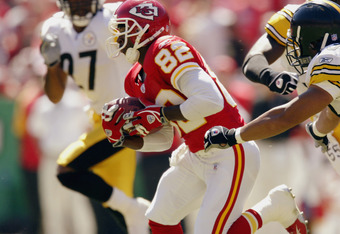 Brian Bahr/Getty Images
One name I knew was Dante Hall, who took a kickoff back 100 yards for a touchdown to put the Chiefs on the scoreboard while down 10-0. Priest Holmes unleashed in the fourth quarter for a 31-yard touchdown run to help the Chiefs seal the game, 41-20.
Although it was an enjoyable experience, I was hoping I could one day attend a Chiefs game with my dad. We continued to watch the games at home that season and were thrilled to see the 9-0 start to the season as it eventually led to winning the AFC West.
The Chiefs learned they would face 27-year-old Peyton Manning and the Indianapolis Colts at home in the playoffs after their postseason bye week. A week before the game, my dad surprised me with two tickets to the game against the Colts. And I still remember it like it was yesterday.
Arrowhead Stadium was ecstatic on Jan. 11, 2004, and it was my favorite moment with my dad. He and I arrived to our seats an hour early as fans began storming The Red Sea.
Throughout the high-scoring battle, I was wondering if Hall, our favorite player who we luckily met at a restaurant earlier during the season, would ever return a touchdown. Late in the third quarter, Colts kicker Mike Vanderjagt placed the football on top of the tee, not knowing what was about to happen.
Hall fielded Vanderjagt's kick at his own eight-yard line and broke loose for a 92-yard kick return to the end zone, cutting the deficit to one possession.
I still remember my dad and I sharing a hug in celebration while a guy two rows ahead of us celebrated by throwing an empty beer bottle several rows down.
Despite the electrifying boost, the Chiefs fell short, 38-31, and their chances of winning the Super Bowl went away. Even though the Colts were victorious, it is still my favorite afternoon spent with my dad.
He promised me on the way home that it would not be our last appearance at Arrowhead. It was a promise that was successfully made. To this day, he has taken my mother, brother and I to many games over the years.
Sundays are always chaotic when my dad and I are watching the Chiefs together, whether it is at home or at the game. These are moments I will always remember and hope to share with my future kids one day.
Thanks, Dad! Thanks for not only all of the crazy and thrilling football moments, but for teaching me how to be a gentleman and help me get to where I am today. I still appreciate you telling former Chiefs guard Ed Budde about me when you met him and helped me land an interview with him on my podcast.
Happy Father's Day!