Orlando Magic: In Admiration of J.J. Redick
June 15, 2012

Sharp-shooter. Three-point specialist. The best pure shooter in college basketball history.
J.J. Redick has been called them all. Although he's had his share of compliments, the former Blue Devil had to deal with cruel name calling, attacks on his sexuality, and dirty jokes about his wife, Chelsea.
His Duke days are behind him, and so are the most vicious verbal attacks. Every time his Orlando Magic visit Charlotte, the boo birds and Tar Heel fans emerge to once again attack the most hated college basketball player of all-time.
Redick doesn't react to these abuses with words. He reacts with his play. If he hits a three, he'll just blatantly smile and hold up three fingers. Some call this cocky. Others call it smooth. Whatever you call it, at least he doesn't throw up gang symbols like J.R. Smith.
His refusal to let haters affect his game is just a small fraction of why I admire him.
J.J. Redick has an unmatched work ethic. At Duke, Redick was purely a jump shooter. He didn't necessarily have the athletic ability to get to the hoop. Because of this,  Redick saw very few minutes on the court in his first few seasons with Orlando. He requested a trade and placed blame on Van Gundy for his limited minutes. As he matured, Redick quickly realized it was him who needed to improve.
Redick was forced to change his game. He challenged his body daily and soon became the most fit player on the Magic. His defensive skills improved dramatically and he soon gained more minutes, as well as Van Gundy's trust.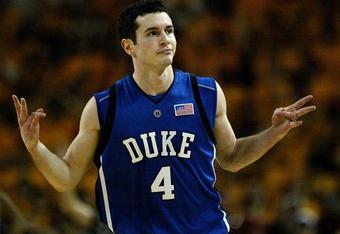 In his last three seasons, Redick's stats have improved. One could even argue that he had a better season than the man starting in front of him, Jason Richardson. But Redick hasn't complained about his playing time since his trade request. He would rather win than be a star. Championships, a goal he failed to reach at Duke, is the only thing that matters to him now.
So far, he and the Orlando Magic have come up short and Redick has grown frustrated. He did not hide his anger over last seasons drama filled debacle with Dwight Howard. One could even say that Redick and the Magic have dealt with more issues and pressure than the other team in Florida, the Miami Heat.
J.J. Redick and LeBron James are more similar than you may think. James is dealing with unbelievable scrutiny every time his Air Max shoes step on the court. You either love or hate LeBron James, there's no middle ground. Same goes for Redick while he was at Duke. People loved to hate him.
Luckily for Redick, the days of non-stop hatred have ceased, for the most part.
Thick skin and work ethic, not to mention unparalleled basketball skills, is what it takes to become successful in the NBA. A lot of people doubted Redick as a professional player.
But every year, he puts up three fingers and smiles.