Why Are the Giants So Excited About First-Round Pick David Wilson?
June 15, 2012

Jim McIsaac/Getty Images
The Giants have won a few Super Bowls under Tom Coughlin, but like the coach, they are generally an all-business, no-nonsense organization in the media. That's why the recent gushing over first-round running back David Wilson should stand out from the dismissive "everyone looks good in minicamp" tone we hear so often at this time of year.
According to Ralph Vacchiano of the New York Daily News, offensive coordinator Kevin Gilbride basically called Wilson the most explosive player at any position that the Giants have had during his time there:
I don't know if we've had a guy as explosive, regardless of the position, here. I don't know if we've seen quite the darting, the explosiveness in short bursts that we've seen with him. That's kind of exciting to see.
Gilbride wasn't the only member of the organization talking Wilson up after the conclusion of the team's minicamp. Steve Serby of the New York Post reports that the defensive side of the ball noticed Wilson too.
Defensive coordinator Perry Fewell said that Wilson can see and accelerate through a "sliver" or "little peek of a gap" and "be gone" before the defense can close it. Defensive end Justin Tuck said Wilson can be a great third-down back and expects Wilson to "really upgrade our running attack." Linebacker Chase Blackburn even compared Wilson to LaDainian Tomlinson.
Quarterback Eli Manning reminds us that rookie running backs can be as explosive as an atomic bomb and still fail to make an impact if they can't hack it as a blocker (via the New York Post):
...Unless he understands a lot of our checks and protections and change of protections, until you have a great grasp of that, you're not gonna be able to get on the field. But it seems like he's learning and picking up things.
The Giants still have D.J. Ware and Ahmad Bradshaw to ease Wilson into situations where he will be the last line of defense between Manning and an incoming missile of a blitzer.
Another question about Wilson's fit arises when you compare the 5'10", 206-pound back to the back he is replacing: 6'4", 260-pound Brandon Jacobs.
NFL Films football guru Greg Cosell feels that Wilson's ability to be a tough, physical inside runner at that size stood out, so he might not be as ill-suited to handle short-yardage and power-running plays as his dimensions suggest.
What impressed me most about Wilson on film wasn't his explosiveness or his inside running; rather, it was one of the most underrated qualities in a running back: balance. Take a look at these three screencaps: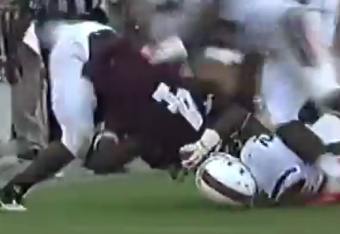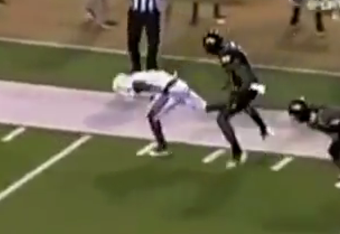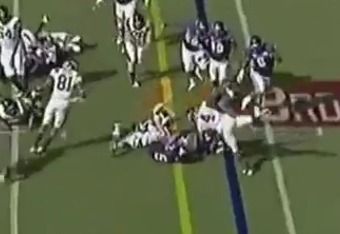 Not only was Wilson not brought down at any of these junctures, but he went on to gain at least five yards after contact that would have ended the run for 99.9 percent of running backs at any level of competition.
Put all of these facets of his game together, and Wilson might be the kind of rookie who ends up being used during his rookie year much more than his team planned on, because it would be foolish to leave such a talent on the sidelines.