New England Patriots Most Important Positional Coach: Dante Scarnecchia
June 15, 2012

Doug Pensinger/Getty Images
With 28 years of service with the New England Patriots, offensive line coach Dante Scarnecchia holds the record for the longest coaching tenure in Patriots history. Take one look at his body of work, and it's not hard to understand why. 
Perhaps no offensive line coach in the NFL is more well-known than Scarnecchia. He hasn't always been an O-line coach, but he has held that post for 13 years with the Patriots, in which time New England has become a factory of offensive linemen, turning out good players one after another.
Scarnecchia has coached talented players, such as tackle Matt Light and guard Logan Mankins. He has also fostered some hidden talent in center Dan Koppen, drafted in the fifth round, and guard Stephen Neal, an undrafted free agent. Those are just the most notable names.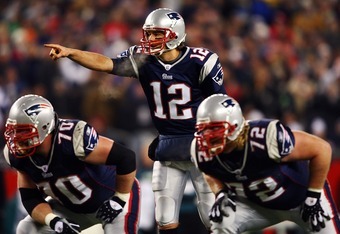 Elsa/Getty Images
Not only did he get the most out of that talent, he also helped coach that talent to a record-setting season in 2009, in which the Patriots gave up just 18 sacks—the fewest since the NFL moved to a 16-game schedule. And he earned the 2007 NFL Assistant Coach of the Year award for coaching a unit that gave up just 21 sacks and featured three Pro Bowlers.
He hasn't always had that talent, though. In fact, the 2003 season provides great context for his abilities as a coach. That season, the Patriots won the Super Bowl, despite three of their five opening-day starters ending the season on injured reserve.
His superior coaching isn't lost on his pupils, either. In fact, future Hall of Fame guard Brian Waters pointed to Scarnecchia as the figurehead of success for the offensive line. Per the Boston Globe:
I'll tell you what, he's good. And there's a reason why this group is always good. There's a reason why the Patriots always have a good, solid offensive line. It's because of him. I see where it comes from. He's a consistent figure to this line.
His former players pour the praise on heavy, as ESPN analyst Damien Woody went on about Scarnecchia as one of the hardest-working coaches in the business and one who expects the same from his players:
For me, he was tough because when I came in, I was a first-round pick and there was a lot expected of me and he was really hard on me. As I went along, he eased up and things got a lot better, but he holds guys accountable, which you're supposed to do, and expects guys to play at a really high level. I can still vividly see him having an explosion on the sideline, but that was OK with me because he wanted things done right, and that's fine by me.
For the Patriots, there's no reason to complain, though. His unit has routinely been among the best in football, but this year could be one of his toughest challenges yet.
Light has retired, and he will be replaced by left tackle Nate Solder, drafted in the first round in 2011. Mankins will miss time recovering from a torn ACL he suffered in the Super Bowl, and his replacement is less clear. It could be any one of Marcus Cannon, Robert Gallery or Waters—and that's if Waters returns for a 13th NFL season. Depending on who's left, they may have to find someone to play right guard too.
Koppen has elected to come back for one more run, and between he and Dan Connolly, at least the Patriots have options. But what happens if right tackle Sebastian Vollmer's back continues to act up?
More hard work for Scarnecchia? Nothing new. He'll rise to the challenge, as he has often in the past.
Erik Frenz is the AFC East lead blogger for Bleacher Report. Be sure to follow Erik on Twitter and "like" the AFC East blog on Facebook to keep up with all the updates.