Junior Dos Santos Has the Potential to Be the UFC's Next International Star
June 15, 2012

Jason Merritt/Getty Images
The UFC has produced few international stars like Georges St. Pierre and Anderson Silva in recent memory, fighters with worldwide appeal. There may finally have another, however, in Junior dos Santos.
Fighters that gain international appeal usually do so both in and out of the octagon, though their championing the sport through title defenses doesn't hurt. There's also something else to these fighters, something in their back story or in their person, that appeals to a greater audience.
Regardless of how they've garnered that attention, they always have a spotlight upon them and are responsible for carrying the sport of MMA as it grows and expands.
JDS is slowly gaining similar status, and if he keeps fighting the way he has, his international fame will only grow. He's the current heavyweight champion. His last two fights, the first against Cain Velasquez for the title, and the second against Frank Mir to defend the title, have ended by a decisive KO and TKO, respectively.
Before his titled status, JDS grew up as a professional, fighting in Brazil's small MMA promotions before making his UFC debut in 2008 at UFC 90. His first UFC fight was against Fabricio Werdum; JDS won by KO in a fight that was called the upset of the year by Fight! Magazine and NBC Sports.
Ever since, he's rocked his way to the top, where he stands as the undisputed champion.
What's more, JDS has the kind of background that allows him to keep his status in perspective. Before all of this, he grew up in poverty, as he explains to Chuck Mindenhall in an interview.
My family was very, very poor. My dad worked in construction, and my mom cleaned houses. I began working when I was very young to help. I sold ice cream in the streets when I was 10 years old, and then I became a newspaper boy.
JDS obviously worked past this condition, but he never forgot about it. At his last fight, UFC 146, another young Brazilian, who now lives in the same conditions JDS once did, was brought along and made a celebrity alongside the heavyweight fighter. That young boy, Breno Luis Ferreira, explained dos Santos' greatness more succinctly: "Cigano is the strongest man in the world. He can defeat anybody, even though he is nice."
After dos Santos' victory, UFC commentator Mike Goldberg explained what a victory for JDS meant that night for the greater community of his supporters.
What a dream come true not only for Junior dos Santos, but for all of those who he shares his stardom, his fame, and his heart with.
With the story of JDS as a once-impoverished youth conquering his environment to become a great champion, the world is now watching a man who is able to share his fame and glory, to cash in his benefits to pay for others' opportunities.
More often than not, though, these stories slip through the cracks. I'm not one to try and tout the successes of fighters outside the ring at every opportunity, mainly because overcoming obstacles in life is relative for each fighter.
But in seeing how dos Santos' story fits into the greater scheme of UFC stardom, the sport and the organization could use a champion like this.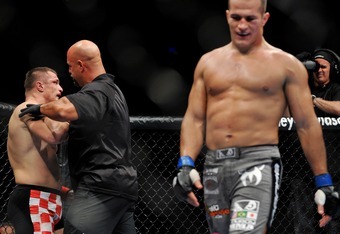 Jon Kopaloff/Getty Images
Compared to GSP, the tactician who appears to the world as the artist of MMA, or Anderson Silva, the phenomenon who seems unbeatable through some agreement with unearthly powers, JDS is the striker who slung fists to work his way up.
Moreover, it appears that JDS will never quite be the playboy that GSP and Silva became, and we like it that way. He represents the struggle of finding your place within the world. JDS will never be defined as an individual, but it doesn't appear that he wants to be.
In the end, JDS is telling a story that belongs to his people. But with each new victory, with each level of greatness he achieves, the numbers included as part of his people grow exponentially.
As the UFC's presence expands across the world, dos Santos' title-holding couldn't have come at a better time. He offers a traditional story of a different kind of champion, and where he once needed the UFC to get to that point, it now seems that the UFC needs him more than ever.