Golden State Warriors: Was Signing David Lee a Huge Mistake?
June 15, 2012

Ezra Shaw/Getty Images
There is this space in the grand NBA scheme. It is where teams like the Atlanta Hawks or Houston Rockets tend to find themselves year after year. Teams who can find their way to the playoffs, only to be dismantled by true contenders. It is often said that this is the worst place you can be in the NBA; the space where you aren't threatening for a title and cannot bottom-out in order to get the pick necessary to return to the top in this league.
This raises the question: Is Golden State forward David Lee the perfect example of what I like to call NBA purgatory?
One of the ways you find yourself getting stuck in this area between great and awful is by making a huge mistake, like paying a good player superstar money. Take a note from the Atlanta Hawks who decided to give Joe Johnson a six-year, $123.7 million contract that will pay the supposed superstar nearly $25 million in 2015, when he will be 33 years old. 
Has that deal worked out for the Hawks? Johnson has not carried them within spitting distance of a title, yet he makes about as much money as Dirk Nowitzki and Kobe Bryant, who each led their teams to the past two NBA Titles. This has contributed in large parts to forcing Atlanta into NBA purgatory.
My worry is that Golden State made that same huge mistake with David Lee. When the New York Knicks signed-and-traded the power forward to the Warriors for six years, $80 million it seemed like a stretch and Lee was coming off some of his most productive years. At this point, he is still on the hook for three more years and will make $15.5 million in 2015 when he as well will be 33 years old.
Whether you believe tanking rumors or not, the Warriors found themselves 23-43 at year's end and once again not in the playoff picture but not bottomed-out. Luckily, they held onto the No. 7 overall pick. They were one ping-pong ball away from losing it to Utah via the Marcus Williams and Deron Williams trades. The pick moves to a top six protected next season.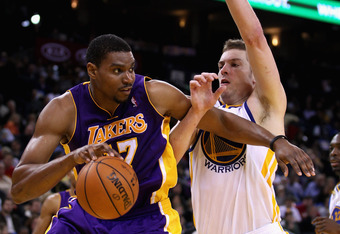 Ezra Shaw/Getty Images
Golden State finished with a worse winning percentage this past season than in Lee's first with the team when they finished 36-46. This is to take nothing away from the solid player that he is, but his stats have declined outside of Mike D'Antoni's system.
Lee has yet to break the double-digit rebounding average he did easily during his final two seasons in New York. His field goal percentage has gone from around 55-percent to barely cracking 50 percent. If you think that Lee is a legitimate 20-10 guy then maybe he is worth the money he is being paid.
However, that 20-10 is a facade. Lee's deficiencies on defense and ability to create his own shot make his 20-10 somewhat of a phony stat. I see an above average player who has never seen a playoff series, let alone led a team to one.
What it all comes down to is can David Lee take you deep into the playoffs, because he is being paid as such. So far the answer is a fairly resounding no.
Can a guy like Kris Humphries give you 90 percent of what Lee does for 50 percent of the cost? 
This is the type of question you shouldn't be asking about your franchise player. Golden State only has one or two free agents who will require real money to re-sign this offseason in Brandon Rush and Nate Robinson. However, next year Andrew Bogut and Stephen Curry's contracts come up and with Lee sucking in $14 million it will be difficult to re-sign both of them.
Lee's contract may be hampering the Warriors from improving the team around him to a point where he could be a valuable piece on a contender. Unfortunately, his skill set doesn't translate into being a No. 1 or maybe even No. 2 option on a great team.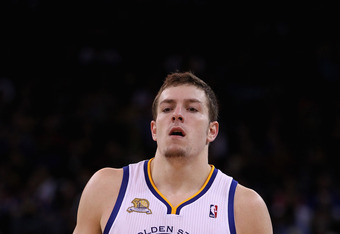 Ezra Shaw/Getty Images
Lee is good enough to keep you out of the basement, but the necessary ceiling just isn't there. It is hard to see the Warriors improving during the duration of Lee's contract. It hampers them too much in going after top free agents and re-signing their best players. 
This makes the move a big mistake. It will keep them from being a player in max-contract discussions with legitimate superstars, while also keeping them out of a position where they could draft the next legitimate superstar.
In some ways he is the perfect star for Golden State, he has kept them consistent. In the past five NBA Drafts (including 2012), the Warriors have chosen 14th, 7th, 6th, 11th and 7th. Lee can keep them in that range, grabbing the scraps of the lottery each year until your eyes bleed.
David Lee can be one of two things, a vital role player on an elite team or the leader of a team that resembles his play, good not great. Or in other terms, NBA purgatory.