St. Louis Rams: Thursday's Rams News and Notes at Noon
June 14, 2012

Welcome to Thursday's St. Louis Rams "News and Notes at Noon", the premiere destination for all major daily Rams updates and other information of interest for Rams Nation. 
Complete Coverage of Wednesday's Mini Camp Action; Danario Alexander Looking Good
Nick Wagoner shared a very detailed and insightful blog regarding yesterday's mini camp work, as you can read here at stlouisrams.com. 
Among a lengthy list of other items covered, Wagoner shared the following on Danario Alexander, the talented but often injured wide receiver:
WR Danario Alexander had another nice day. He went up and made a play on a couple of deep balls thrown his way, coming down with them for big gains. When he's healthy, he brings a dimension nobody on the roster (save for potentially Quick) can bring. He's had a good week or so since returning from a hamstring ailment.
According to this report from CBS Sports Ron Clements, Fisher is pleased with the progress of DX: 
He can elevate and make those plays. It's good to see it.
If Alexander can show himself to be healthy enough to make this team, St. Louis could deploy a set of twin towers in Alexander (6'5') and Brian Quick (6'4') to compliment the deep speed of Chris Givens and the underneath work of the likes of Danny Amendola, Greg Salas and Steve Smith.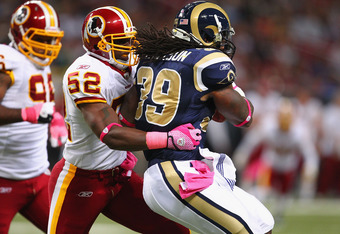 Dilip Vishwanat/Getty Images
In Wagoner's aforementioned blog, he shared a great deal of additional Rams information and updates including details on Steven Jackson, the rookie class, the offensive line, Sam Bradford, an ankle injury for tight end Lance Kendricks and the player that drew some criticism yesterday from coach Fisher.  
Rams Looks To Sign Former Redskins Starting Linebacker Rocky McIntosh 
According to Jim Thomas via this report at stltoday.com, St. Louis would like to sign veteran outside linebacker Rocky McIntosh relatively soon. 
McIntosh, 29, was a full-time starter from 2007-2010.  The 6'2', 242 pound LB produced 65 tackles and a sack last season in eight starts and 15 total games. 
If indeed signed, as expected, McIntosh would have a terrific shot at earning quality playing time and would have a legitimate chance at securing a starting job among a group that includes Jo-Lonn Dunbar and Mario Haggan, two other linebackers the Rams previously added via free agency. 
McIntosh has also visited the Miami Dolphins and Minnesota Vikings (and perhaps others) during the offseason. 
St. Louis Expects Big Year From Robert Quinn in His Sophomore Season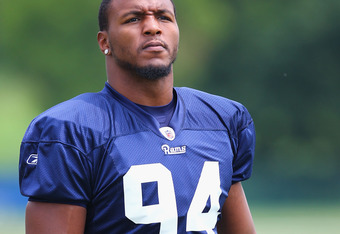 Dilip Vishwanat/Getty Images
The Rams are expecting a big second season from Robert Quinn, according to this piece from Jim Thomas for the St. Louis Post-Dispatch. 
Mike Waufle, the Rams defensive line coach, sees a ton of potential for the 6'4', 260 pound defensive end: 
There's nothing but upside with Robert. When you're a student of the game, you've got a chance to be able to progress faster. The second thing is that he has speed. He's 'God-gifted' like crazy from top to bottom, and this is a speed game.

I'm very pleased at his ability to rush the passer because he's working on a number of different moves, a number of different techniques, and he's had success—at times — with each and every one of them," Waufle said. "So we can see that progression. And through spaced repetitions, hopefully they're going to develop into habits.

I'm real excited about how he's playing the run. Most pass rushers are tagged as not wanting to be run defenders. And he's taking the running game as being a serious issue. He's working really well with his hands. He's working to control blockers.
Head coach Jeff Fisher, from the same Thomas column, also spoke of the importance of run defense in relation to Quinn: 
That's been an area of emphasis up front on the defensive line this offseason — run techniques. It's hard to do it without pads on. But he's really come on. His strength has really improved significantly and he's going to be what they (the prior regime) drafted him to be. We're very fortunate to have him.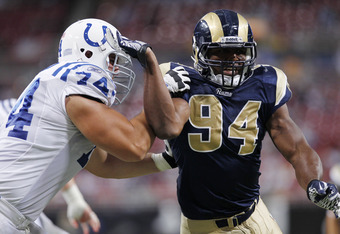 Joe Robbins/Getty Images
Some have been concerned about Quinn tipping the scales at just 260 pounds. However, Waufle is not one of them: 
People don't realize that when I coached Michael Strahan, and Osi Umenyiora, and Justin Tuck in the Super Bowl, Tuck was playing inside at 263, Michael weighed 251, and Osi was 254. So, if you learn how to be a leverage player, which (Quinn's) studying and learning how to do, you can play against a lot of players.
Teammates have been very complimentary as well, including fellow defensive end Chris Long, who reaped these accolades on Quinn: 
Robert's taken some big strides. He's going to be the guy. He really will be.

I'm dead serious. If he takes the steps I think he's going to take this year, I think he's going to be the guy.
Please click the above-linked column for much more on Quinn in regard to his work ethic and more with additional quotes from Waufle, Quinn, head coach Jeff Fisher and running back Steven Jackson. 
Ron Clements of CBS Sports With a Multitude of Reports From Rams Park 
Ron Clements of cbssports.com shared a plethora of Rams Rapid Reports from mini camp yesterday, as you can read here.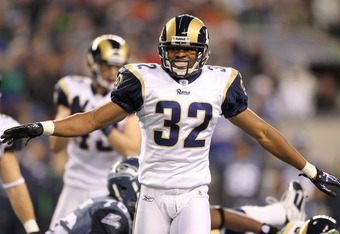 Otto Greule Jr/Getty Images
Among other things, Clements has takes from Sam Bradford on his impressions of the Rams rookie cornerbacks, his quarterback coach, his offseason study and throwing plans, kicker Greg Zuerlein, head coach Jeff Fisher, the competition at tight end and St. Louis Rams owner Stan Kroenke. 
Cornerback Bradley Fletcher Ahead of Schedule
According to Nick Wagoner of stlouisrams.com and this article, cornerback Bradley Fletcher, who missed most of last season due to a severe knee injury, is ahead of schedule in his quest to return to ideal form in 2012. 
Fletcher is pleased with the progress he has made in rehabilitation work thus far: 
I'm coming along really well right now. I am able to do everything and not holding out of anything. My knee is coming along really well. I am happy about the way things are going and just the opportunity to compete every day. I am ahead of schedule. I am looking forward to these next couple days of practice and then coming back for camp and being ready to go.

I'm just about there now. I know as time goes on and we get to camp, I'll be 100 percent. When the pads come on and things are live it's even more important to be ready for sure then. I know I will be ready all the way by then.
The competition for Fletcher figures to be fierce.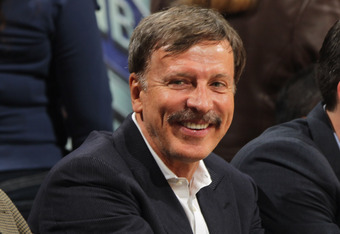 Doug Pensinger/Getty Images
The St. Louis roster includes former Pro Bowl performer Cortland Finnegan, second and third round rookies Janoris Jenkins and Trumaine Johnson, the young, tough and talented Jerome Murphy (who is also returning from injury) and a surprising addition added during the chaotic injury laden season at corner for the Rams of 2011, Josh Gordy. 
Even though Fletcher will have a great deal of competition, if he can get healthy, he has proven to be a very, very good cover corner. 
For his part, Fletcher is looking forward to competing and showing what he can do: 
There will be a lot of competition. We have a lot of guys that can play corner and we are all jelling right now and learning the playbooks and things and the competition is going to get better once the pads come on and all of that. We definitely want to sure up the back end. It's looking good right now. It's definitely going to be very competitive as the season goes on and we could be pretty good.
Owner Stan Kroenke Visits ContinuityX Training Center Wednesday 
According to Jim Thomas in this report for stltoday.com, St. Louis Rams owner Stan Kroenke visited Rams Park on Wednesday afternoon and talked with Chief Operating Officer Kevin Demoff and general manager Les Snead while watching yesterday's practice. 
The timing of Kroenke's coincidentally or intentionally coincides with the June 15 deadline to reach an agreement regarding the Rams lease at the Edward Jones Dome, the team's home venue since 1995.
If an agreement is not reached by tomorrow, the Rams and the St. Louis Convention and Visitors Commission will enter into arbitration and the next phase of negotiations. 
Very few expect an agreement to be in place by tomorrow, and thus, arbitration is almost a certainly at this point. 
Update:
The CVC, as expected, has voted to enter into a process of arbitration, according to this report by Matthew Hathaway of the St. Louis Post-Dispatch. 
Rams Rookies Look To Make Big Impact in 2012 
According to this submission by former NFL executive Tony Softil of 101sports.com, Rams rookies are preparing to impress in their inaugural campaigns.  
Softli shares new quotes from Michael Brockers, Brian Quick, Rokevious Watkins and Chris Givens in the stellar above-linked piece. 
Brockers, for one, feels he is progressing nicely: 
I'm feeling pretty good. Everything is coming pretty smooth now. At first I was hit with a lot of different plays, hit with a lot of different techniques, but as I go on all these OTAs and minicamps stuff like that, feel like I'm getting better and better every day.
Have a great day as always, STL Rams Nation. 
Shane Gray covers the St. Louis Rams daily as a Featured Columnist for Bleacher Report. You are encouraged to check out the rest of his work here. Gray also owns and operates stlramscentral.com.