Kendrys Morales: Should the Los Angeles Angels Trade the Slugger?
June 14, 2012

Jeff Gross/Getty Images
He's been through so much already.  His story, from his voyage to America to his return from gruesome injury, is an inspirational one to all baseball fans.  He's a potential MVP candidate once he gets back into the swing of things.
But is it time for Kendrys Morales to go?
After digging themselves a Texas-sized hole in April, the Angels are now playing the kind of winning baseball that was expected of them after last offseason's spending spree.
They are currently three-and-a-half games behind the Rangers for control of the A.L.West, having gone 10-5 in the last 15 games despite losing ace Jered Weaver to the disabled list. 
But, by no means, are they a complete team, which is why general manager Jerry DiPoto and company should be busy evaluating all of their options.
One of those options, the most realistic one at this point if you ask me, is to look at trading Morales in exchange for someone who can solidify the left side of the infield and/or the No. 2 spot in the batting order.
I'm not saying they should trade him per se, only that if the team expects to win the World Series this year, as is their stated goal, then something needs to be done about the fact that Maicer Izturis, Erick Aybar and Alberto Callaspo, otherwise known as the left side of the infield, are batting .222, .219 and .250 respectively with little to no power—Wednesday night's efforts notwithstanding. 
And with Izturis and Aybar previously occupying the No. 2 spot in the lineup, a lot of potential rallies have been stopped cold this season before they even got started as a result of their ineffectiveness.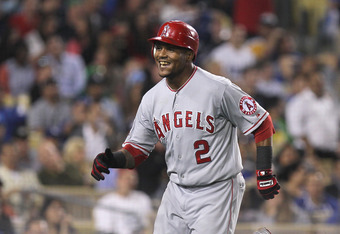 Stephen Dunn/Getty Images
Maybe Torii Hunter is the answer, maybe he's not. 
But when I look around the league at some of the other contending teams, I don't see a liability at the No. 2 spot.  I see an asset. 
I'm talking about guys like Elvis Andrus, Jason Kipnis/Asdrubal Cabrera, Dustin Pedroia, Curtis Granderson, J.J. Hardy, Colby Rasmus and B.J. Upton, all solid to spectacular No. 2 hitters for contending teams.
It's no coincidence that each of those seven teams the players listed above play for has scored more runs than the Angels so far.
With Mike Trout, the Angels have arguably the best leadoff man in baseball.  And with Pujols and Trumbo doing their thing, they have guys that can drive him in. 
But there is a huge difference between Pujols up with a man on and one out vs. two men on and nobody out. 
The former has often led to a scoreless inning while the latter almost certainly leads to runs scored.
All of which brings me back to Morales.
While he hasn't been his 2009 self—and he's not a fixture in the lineup every day—he has been productive for the team, particularly against right handers, where he's produced 11 of his 13 extra base hits, not to mention 19 of his 23 RBIs. 
Still, without a place for him in the field, or in the everyday lineup, the Angels aren't getting the kind of value they could be if they got a player in return whom manager Mike Scioscia could pencil in each day.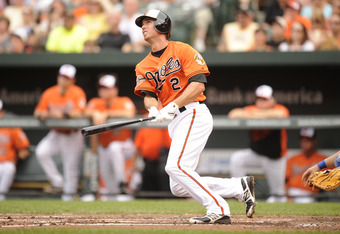 Mitchell Layton/Getty Images
Morales is an attractive trade piece because he's still a year away from free agency, so any team trading for him would have the remainder of this season (at a relatively low price of $3 million prorated) and next season before having to make a long-term decision about whether or not to keep him.
And if that team had a smart GM who could sign Morales to a four- or five-year extension after trading for him at a team-friendly price and he ends up regaining his 2009 form, then they would be getting a Jose Bautista-sized bargain.
Of course, when you give value you expect to get value in return, so there'd have to be a team who has a very productive veteran—and be willing to part with him—who could fill the void for the Angels.
The aforementioned Hardy makes the most sense as he can fill both holes (SS and No. 2 hitter) and would instantly make the Angels more formidable on offense while giving up little on the defensive end. 
And the Orioles need to take gambles like trading for Morales and signing him to an extension and hope he performs because they're woefully behind the Red Sox and Yankees in spending and the Rays and Jays in player development.
As I said earlier, I'm not advocating a Morales trade. 
I believe he's going to get a good part of his groove back and be a very productive player for many years. 
But if the Angels don't solve their woes on the left side of the infield and the No. 2 spot in the lineup, it simply won't matter as they will once again be on the outside looking in when the World Series winner is crowned.