Why the Los Angeles Dodgers Are in the Carpool Lane to a Championship
June 14, 2012

Doug Pensinger/Getty Images
No need to rub your eyes, or pinch your skin. 
This is who the Los Angeles Dodgers are: Owners of a 40-24 record—best in all of Major League Baseball—and a comfortable 3.5 game lead in the NL West. 
They're a first-place team. A championship contender. A laughingstock, no longer. 
The past is exactly that; the past. The Frank and Jamie McCourts. The filing of bankruptcy. The falling short of lofty, even tempered expectations. All in the rear-view mirror, and with a heavy foot on the gas pedal, the Dodgers are cruising to a bright future.
And it's not a mirage.
In a way, they've already arrived. It's been a slow—seemingly fruitless at times—process, but methodical nonetheless. The Dodgers have built a roster founded on lights-out pitching and enough offensive power in the lineup, top to bottom. 
Through Wednesday's action, the Dodgers pitching staff held a collective 3.14 ERA—only the Washington Nationals boast a lower team ERA (2.96). Attribute much of that to Clayton Kershaw, the lefty ace and one of the top starters in the game.
In 2011, Kershaw dominated batters en route to a pitching Triple Crown and the National League Cy Young Award, and has yet to slow down. He is 5-3 with a 2.65 ERA and 81 strikeouts so far this year.
Chris Capuano (8-2, 2.87), Chad Billingsley (4-4, 3.57) and Aaron Harang (5-3, 3.59) have been steady contributors in what is shaping up to be a special rotation.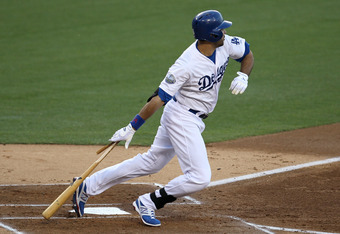 Stephen Dunn/Getty Images
The offense then does the rest. Specifically Matt Kemp—when healthy—and Andre Ethier.
Before consecutive trips to the 15-day DL (hamstring), Kemp was batting .355 with 12 HRs and 28 RBI, not to mention his defensive prowess in the outfield.
And Ethier, a close friend to Kemp, has picked up the slack in his absence. He's batting .291 with 10 HRs and leads the National League with 55 RBI. It's been clutch hit after clutch hit for the right-fielder, and it's earned him a new five-year contract. A wise move for both parties involved.   
With Kershaw, Kemp and Ethier together, the Dodgers keep the foot on that gas pedal and move into the carpool lane. The fast lane. 
And they're here to stay.