San Francisco Giants: Matt Cain and the Hottest Pitching Staff in the MLB
June 14, 2012

For those who don't regularly follow the San Francisco Giants, a 2012 season storyline of a struggling Tim Lincecum, a season-ending injury to Brian Wilson, a steroid-related 100-game suspension for veteran Guillermo Mota and a hard-knocked Barry Zito still in the starting rotation, might suggest catastrophe.
But the campaign so far has been anything but, and Cain's performance on the bump against the Houston Astros is the latest example of how superb this staff really can be.
When I sat down to write this article it was still the third inning, and I was just excited to see Matt Cain had seven runs of run support; more than he's had in entire months at times. Little did I know the historical trajectory that this game was headed in.
As the torrent of tweets and headlines have indicated, Cain threw the franchise's first-ever perfect game, the 22nd all time. Giants fans and Astros hitters alike marveled at his steady velocity, his ability to hit the corners and, of course, the uncanny rhythm (despite long stints while teammates were at bat) that had him cruising through nine innings of flawless baseball.
Twenty-seven up and 27 down, with zeros across the board except in the K column, in which he racked up a career-high 14. It was an impeccable performance.
"The Horse," as he is known in San Francisco in reference to being the pitching staff's work horse for throwing so many exceptional innings but lacking results, ranks among the worst of pitchers in terms of run support.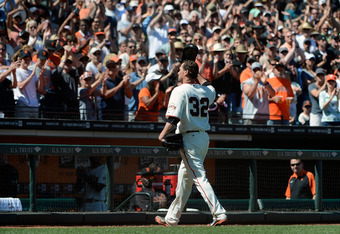 Thearon W. Henderson/Getty Images
The consistency in which the Giants offense grants Cain no-decisions has made him the hard-luck figure and stepchild of popularity behind widely recognized two-time Cy Young winner Tim Lincecum and the outrageous Brian Wilson.
No longer will Cain be a background figure, and he will surely garner some well deserved recognition on the national stage, as his perfect game will undoubtedly thrust his name amongst Giants greats.
"Wow," was all he could muster at first in response to CSN Reporter Amy Gutierrez's postgame questions, recovering from the initial shock. "It's unspeakable right now; this is unbelievable." It may have Cain searching for words, but his stunning performance shouldn't come as a surprise for anyone who has watched him pitch.  
He has finished with three career one-hitters, and on a semi-regular basis carries no-hitters late into games. Cain has been San Francisco's steadiest pitcher since entering the league in 2005, and in the month of June he has been en fuego, sporting a 0.60 ERA with only one earned run and three BB in 15.0 innings.
On the season, he boasts an 8-2 record, having won seven straight, undefeated in June and a day short of undefeated in May.  His most recent loss dates back to May 1, when Miami inched out a 2-1 victory late.
His 2.18 ERA is third best in the MLB, while his innings pitched (95.0) and K total of 96 are respectively ranked first and second overall. Is it too early to suggest Cy Young? He might not be "I'll Have Another," but he is certainly a horse with high odds in that race.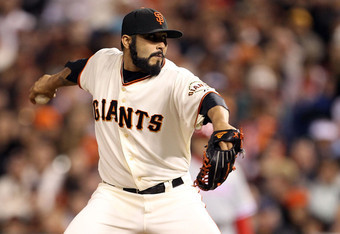 Yet, Cain is not the only one on this staff dealing thus far in 2012. San Francisco has been nothing short of spectacular (some would say 2010-type spectacular), with the third lowest ERA at 2.18, 465 SO and a league-best 24 saves.
Other than Lincecum, San Francisco's starting rotation has been stellar.
Close behind Cain in results is the right-handed Ryan Vogelsong. Journeyman-turned-All-Star in 2011, Vogelsong has been "a model of consistency," as described by SF color commentator Mike Krukow, leading the Giants to victory in six straight starts (including a no-decision in mid-May) and rocking baseball's fifth-best ERA at 2.26.
He is a constant innings eater for the bullpen, a high quality for a late-rotation arm, and continually pitches his way out of tough situations. 
Also having a strong year is lefty Madison Bumgarner, matching Cain with most wins on staff (8). He has a steady 3.08 ERA and has fanned 74 batters.
A night prior to perfection, Bum sent 12 Astros packing (a regular-season high) and combined with Cain and Romo to strike out 27 of Houston's hitters in just two games! Not to suggest that the Astros' no-name lineup stacks up with the Bronx Bombers, but that is still an impressive total.
Finally, there is Barry Zito, who is having his best year in a Giants uniform yet. He got the season rolling with a complete-game shutout in the hit-crazy Coors Field, the first one there in nine years, and hasn't looked back since.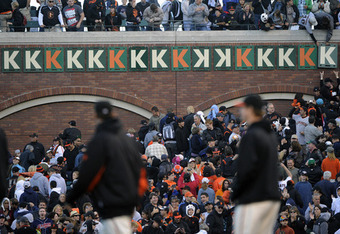 Zito has already collected more wins (5-3) than he got in all of 2011. His infamous 12-to-6 curveball is in true form, resembling the hook that once won him a Cy Young in 2002. His mechanics are sound, and to Bochy's delight, he has been going deeper into games.
Then there is the "lights-out" bullpen, which has continually been the anchor for the San Francisco Giants.
The energetic Sergio Romo has been tearing it up this season with 0.52 ERA. No Giant, other than Melky Cabrera, is more entitled to a trip to Kansas City for All-Star Weekend than the righty reliever. He has given up only one hit in his least 10 appearances (dating back to May 17) and has an absurd strikeout-to-walk ratio of 5:1.
His no-dot slider (referring to the the laces that hide the spin of a slider until it breaks) has kept hitters on their front foot all season. With 66 batters faced, Romo has surrendered just one big fly. He has been outstanding, both in cleaning up messes and setting up Giants interim closer Santiago Casilla.
The closer position in San Francisco may be recognized by fans as Brian Wilson's job, but Casilla has filled in and owned it. He has an NL third-most saves with 17 (in 21 opportunities) and regularly tells hitters Cas-see-ya later with his 96 mph fastball and wicked movement.
Plus, I can't discuss Casilla's success without mentioning his .500 on-base percentage and uncanny approach to batting (absolute must-see).
With these tools in place and the inevitable resurrection of Tim Lincecum, the Giants have a dangerous pitching staff that will have the Dodgers constantly looking over their shoulder, with October always a possibility.
Follow Me on Twitter: @AlspaughZA