Pacquiao vs. Bradley Results: Pac-Man Will Bounce Back from Shocking Decision
June 13, 2012

Kevork Djansezian/Getty Images
Have you ever lost to an opponent you know you should have beaten if not for some crazy bounces, unlucky plays or a referee's decision?
Whether you're playing Madden, FIFA or you experienced this in real life, most people understand the feeling of being unjustly given a loss. In those situations, what happens next?
Rematch.
Similar to video games or simulations on the playground, the rematch is where you can get it all back. Your focus is keen, the want-to to destroy your opponent is unlike any other time. It's redemption time, and there is no way you're letting another one slip through the cracks.
That's how Manny Pacquiao feels right now.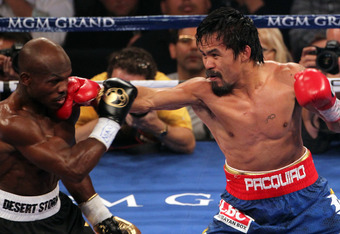 Jeff Bottari/Getty Images
Saturday night saw one of the most unfair decisions, not only this year, but in sports history. It not only ruined that night, but it could ruin the sport of boxing until Pac-Man and Mayweather finally decide to get in the ring.
Timothy Bradley's split-decision victory of Pacquiao on Saturday night is going to motivate Pac-Man more than any time in his career. He landed more punches, his connection rate was better and his punches were stronger. 
Yet he lost.
With the rematch already set for November 10, 2012, Pacquiao is already training to knock the living daylights out of Bradley. Apparently knocking him out is the only way Pac-Man will be given a victory.
Maybe this decision was the wake-up call Pacquiao needed. He came into his fight with Bradley slightly overweight and a little less dominant. He has looked beatable in his past couple of fights.
A loss heading into his rematch with Bradley and potential super fight with Mayweather might be the best thing that ever happened to him. It's difficult to tell now, but we'll have to see how he responds starting with Bradley on November 10.
Pac-Man isn't going anywhere after Saturday's shocking decision. He'll come back better than ever. We'll see it against Bradley in the rematch.