Why the St. Louis Cardinals' Allen Craig Is the Most Underrated Player in MLB
June 15, 2012


In you case you haven't noticed, Major League Baseball is in the middle of its own modern-day Ice Age. 
Furry, abominable hurlers like Clayton Kershaw and Justin Verlander launch icy pellets at poor hitters whose bats shatter like fragile icicles as they hit weak grounders to short.
I hope you have your rally cap and mittens handy.
This downward trend in offense has been going strong for a decade. In light of this context, let's peruse the first five minor league seasons of Cardinals outfielder Allen Craig.
| | | | | | | | |
| --- | --- | --- | --- | --- | --- | --- | --- |
| Year | Age | AVG | HR | RBI | SLG | OBP | OPS |
| 2006 | 21 | .257 | 4 | 29 | .400 | .325 | .725 |
| 2007 | 22 | .311 | 24 | 80 | .541 | .367 | .909 |
| 2008 | 23 | .304 | 22 | 85 | .494 | .373 | .867 |
| 2009 | 24 | .322 | 26 | 83 | .547 | .374 | .921 |
| 2010 | 25 | .320 | 14 | 81 | .549 | .389 | .938 |
It's pretty clear we're looking at a very talented hitter. As far as hitting metrics go, Allen shows no weaknesses—high batting average, moderate number of strikeouts, high on-base capability, and plenty of power. The only tools he doesn't have in spades are speed and defense which explains why it took the organization so long to get his big bat to St. Louis.
The Cardinals can produce all kinds of excuses for his too-long minor league tenure—Craig didn't have a natural defensive position. He was blocked at first base by Albert Pujols. Keanu Reeves hasn't won an Oscar yet.
The question still remains—what took the Cardinals so long? Runs have become so rare that many teams are now sacrificing a little defense to get a high-quality bat into the lineup. Who says David Ortiz can only DH? 
As St. Louis fans will quickly tell you, some of this was due to the man who managed the team for 16 very successful years. Unless a player came up hitting like a born Hall of Famer (a la Pujols), young batters always had trouble finding playing time in Tony La Russa's lineup.
Just ask current Cardinal Tyler Greene, who, at 28 years old, is just getting his first real taste. Ask Colby Rasmus or Joe Mather.
But that's what made La Russa a winner—he put the best team on the field that he could win with now. There wasn't much room for players' growing pains.
But after a slow start in the majors in 2010, Allen Craig quickly morphed into a "starter who isn't starting" by 2011, as described by La Russa during the Cardinals' playoff run last year.
After some early experiments at second base, the Cardinals have settled on an OF/1B positioning for Craig, and all the young man has done since then is rake the baseball for the past year-and-a-half. His balance and calm demeanor at the plate is reminiscent of another gifted righty, Manny Ramirez.
"Torty" batted .315 in limited playing time last season with 11 dingers and 40 RBI in just 200 at-bats. He piled up a 2.2 WAR rating during that time, which is an All-Star level. Craig already has seven home runs in 2012 in just over 100 at-bats.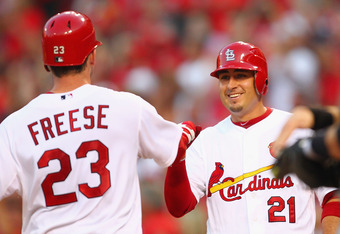 Dilip Vishwanat/Getty Images
Like his buddy, David Freese, Craig's early career has come in fits and starts due to various injuries, the toughest of which was a broken kneecap suffered in Houston last year. 
But still just 27, Craig has plenty of youth on his side, and while Matt Holliday has the big name and big contract to go with it, the safer money is on Allen Craig to have more home runs and RBIs than Holliday at the end of the season, provided he can stay healthy the rest of the way.
In this offensive Ice Age, Allen Craig's powerful bat alone makes him the most underrated player in baseball.
Granted, Craig in no way brings the kind of defense Ryan Ludwick did when he earned a Silver Slugger award and an All-Star appearance for the Cardinals in 2008, but a similar breakout season of .320, 35, 120 next year will probably ensure Craig will be passing the "underrated" title to someone else in 2013.