New Orleans Saints: Why Marques Colston Will Be Team MVP in 2012
June 13, 2012

Thearon W. Henderson/Getty Images
After a nightmarish 2012 offseason, Marques Colston was a ray of hope for the New Orleans Saints.
The slot receiver was resigned to a five-year, $40 million contract, according to Will Brinson of CBSSPORTS.com.
Given his history with the team in terms of offensive production, there is a good chance that Marques Colston will be a candidate for team MVP.
Given all of the scandals this offseason and contract negotiations/holdouts (looking at you, Tom Benson), Marques Colston will have to be a leader on the offense since Brees is not there.
First, let's look at some of his stats to see why he would be considered an MVP-type player.
Ever since he was drafted in the seventh round out of Hofstra, Colston has become one of New Orleans, and the NFL's, better receivers, becoming a constant target for Drew Brees. However, Marques Colston is rarely mentioned or thought of by fans as an elite level wide receiver; that's a big mistake.
Zayne Grantham of Bleacher Report pointed out that Marques Colston has the right set of skills and traits that make up an elite wide receiver as well as having the numbers to show it.
Not only that—Colston speaks well with the media and is a great face for the team right now. He's a player who has not been involved with controversy ever in his career and simply wants to win.
In this interview via New Orleans Saints.com, Colston tries to put on a good face about the current situation between the team and Drew Brees. During it, Colston conducts himself as a veteran player and even a captain.
He wants to focus on practice and team chemistry and not what is happening off the field. 
Out of all of his playing seasons (2006-2011), there was only one year where he did not wind up with at least one thousand yards receiving.
That was 2008, where he spent four-six weeks recovering from a thumb injury against Tampa Bay in Week 7 (via Nola.com). Except for that one season, Colston has been consistent in his work ethic and is a consistent third-down threat.
He doesn't have the breakout speed like Andre Johnson of the Houston Texans. Instead, Colston really shines at catching passes over the middle while running at pace as well as running routes consistently and superbly well.
He has great hands and can come down with a lot of tough passes.
That efficiency and receiving ability is perfect for a quarterback like Drew Brees who is quite possibly the most accurate QB in the league.  
At the age of 29, Marques Colston is an older wide receiver on the team.
He will need to help coach the younger wideouts in New Orleans, especially since Robert Meachem has signed with San Diego.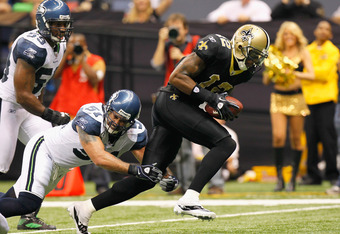 Kevin C. Cox/Getty Images
Colston is a kind of player who can contribute to the team in multiple ways. He brings a lot to the offense and lines up well against most secondaries in the league due to his size and talents. But by being in New Orleans and  getting swirled into Bountygate, Colston is one of the few players who hasn't had his career tainted by it. 
His personality is quite introverted and fans don't hear about any altercations with the law off the field—unlike some of his cohorts in the league.
He's an all-around well tempered person who happens to be a great NFL player. The latter is enough to consider him an MVP-type player.
However, his personable demeanor, on-camera poise and skills as a wide receiver make him the most likely person to be team MVP. After the way the team has handled Drew Brees this offseason, he may not have the same kind of record-setting year as he did last season.
He is going to fall back on other players on the offense, and Colston will be one of them.
Look out for Colston as he cuts through the NFL on his way to team MVP.