How Can the Dallas Cowboys Bounce Back This Year?
June 13, 2012

Christian Petersen/Getty Images
The Dallas Cowboys are not a team that has been without talent the past few seasons, but they are a team that hasn't made the playoffs in the past two years.
Now, 2010 has an asterisk next to it due to quarterback Tony Romo suffering a broken collar bone early on.
Regardless of that fact, as owner Jerry Jones and linebacker DeMarcus Ware have noted, the time is now for Dallas. Here is what Big D needs to do in order to bounce back from past disappointment and make a run for the Super Bowl.
New Cornerbacks Must Live Up to Offseason Hype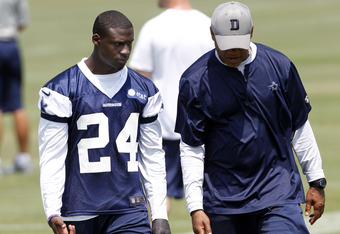 Layne Murdoch/Getty Images
Much has been made of Dallas grabbing a large amount of defensive talent after the unit finished a run-of-the-mill 14th in the league.
The Cowboys had flashes of brilliance last season that was paired with far too many secondary miscues which became the team's Achilles' heel throughout 2011.
Now with LSU product Morris Claiborne and former Kansas City Chief Brandon Carr manning the starting positions at cornerback, all signs appear to an improved secondary for Dallas.
However, both are new to Big D and defensive coordinator Rob Ryan's defense was reportedly difficult to learn for some players last season. The Cowboys need Claiborne and Carr to have the impact everyone is expecting them to have or corner will continue to be the Kryptonite that prevents this team from making a playoff run.
Dez Bryant Must Turn Potential Into Productivity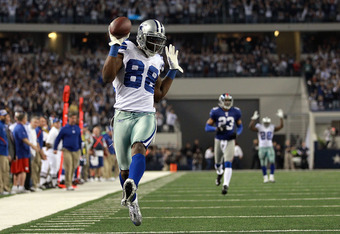 Ronald Martinez/Getty Images
Bryant was nothing short of a steal in the 2010 NFL draft, going No. 24 overall to the 'Boys. That being said, the man who has been honored with the No. 88 needs to start living up to the legacy that comes with wearing that jersey.
The Oklahoma State product is supposed to be Dallas' newest Drew Pearson or Michael Irvin. While Bryant has made some crucial catches he has yet to become the beast fans were expecting on that 2010 draft day.
The uptick from 45 receptions his rookie year to 63 in 2011 is certainly a positive. There are signs that point to Bryant finally building up his chemistry with Romo when looking at his reception total hike over the past two seasons, 12 of which came in the season's final two games.
Bryant was also just under 70 yards away from posting 1,000 on the year in 2011. Not too bad for your second NFL season. With considerable progression shown over his first two years, 2012 could just be the breakout season for the highly talented wideout. If that does come to fruition, then Dallas' passing attack will be the best in the NFC East, if not the entire conference.
Offensive Line Must Give Romo Time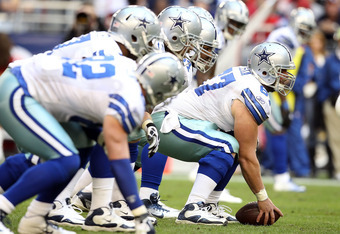 Christian Petersen/Getty Images
Too many times Cowboys fans had to watch as Romo asked for the ball to be snapped, only to see center Phil Costa over or underthrow the football to his quarterback.
Costa isn't the only one to blame on the offensive line however, as right tackle Doug Free looked like a shadow of his 2010 self for much of last season.
The only real bright spot for this unit last season was rookie right tackle Tyron Smith.
Dallas posted a mediocre 19th overall offensive line ranking last season and were a big reason for the team not reaching the playoffs for the second straight year.
Free needs to regain his 2010 mojo that earned him his four-year $32 million dollar contract while Costa seems to need to go back to football 101 and learn how to snap this offseason.
There is potential for this team overall, but Dallas will not be able to reach the postseason as NFC East champions or even a Wild Card if their offense line cannot keep Romo upright.