San Francisco Giants: Is Bruce Bochy the Best Manager in the Game Today?
June 12, 2012

Andy Lyons/Getty Images
Bruce Bochy, manager of the San Francisco Giants, is clearly one of the most underrated coaches in all of baseball.  Ranking third in wins among active managers, Bochy has flown under the radar for most of his managerial career, which is absolutely by design.
Never seeking the limelight or creating a controversy, Bochy almost always keeps a cool demeanor and level head.  Known as "Boch" (Boach) in baseball circles, he rarely gets kicked out of a game, seldom reacts negatively to a reporter's questions and doesn't have the post-game tirade highlights that a lot of his contemporaries are known for.
All of this explains how a manager—who ranks 27th in all-time wins and will likely be 23rd behind Earl Weaver by the end of the year—is rarely talked about when discussing the great managers in the game. 
The two active managers currently ahead of Bochy are Jim Leyland, already considered one of the great managers of all time, and Dusty Baker, who always garners national attention. 
Now I'm not saying that Bochy should be mentioned as one of the great managers of all time, but he should get some consideration as one of the best managers in the game today.
Bochy's career record is 1,394 wins and 1,403 losses over 18 seasons.  He is 122 wins behind Baker in one less year and 222 wins behind Leyland in three less years. 
If the Giants played .500 baseball over the next three years, Bochy would have more wins than Leyland's current total in the same amount of years. 
Moreover, Bochy takes a hit because he still has a sub-.500 record, in part due to managing in San Diego for so many years.  Leyland also has a sub-.500 record, at 1,616 wins and 1,617 losses, but when historians discuss his record, the bad Pittsburgh years are brought up.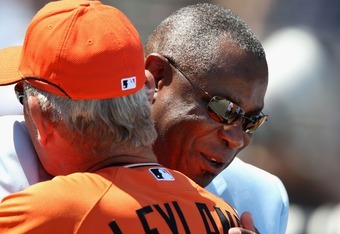 Jed Jacobsohn/Getty Images
Maybe it's because he took them to the World Series in 1998, but for a lot of Bochy's Padre years, the team was not spending money on free agents and there wasn't a big commitment from the organization to win. 
Baker is 122 wins over .500, at 1,516 wins and 1,394 losses, over 19 seasons.  His winning percentage is better than Bochy's, and he's won the Manager of the Year Award three times (93, 97, 00) versus Bochy's one time (96).   
That being said, I'm sure Baker would trade all three of his Manager of the Year Awards for the one title Bochy does own, the 2010 World Series Championship Trophy—the first ever for the San Francisco Giants.
It's probably especially bitter for Baker since he was in position to be the first San Francisco Giants manager to win a World Series, but it all fell apart in Games 6 and 7 of the 2002 World Series.
Leyland also has three manager of the year awards (90, 92, 06) and has his own World Series Championship in 1997 with the Florida Marlins.  
Considering the World Series title coupled with his two pennants (97, 06), Leyland and Bochy's careers look very similar.  Bochy has won two pennants and a World Series, and their win totals are very comparable over the same amount of games. 
Interestingly, I would bet if you asked someone who lives in New York, Chicago, Los Angeles or Seattle who the best five managers currently in the game are, most assuredly Leyland will be at the top of the list, Baker will likely be in there somewhere and Bochy's name will not come up. 
Even more amazing, Bochy only needs to manage two or three more years to pass the likes of the great Dodger manager Tommy Lasorda and the legendary Ralph Houk.  
At the age of 57, Bochy is 10 years younger than Leyland and five years younger than Baker.  Who knows how long any of the three will manage and where they will end up on the all-time list?  
What I know for sure, right now, is that Bochy doesn't get the credit for the numbers he's already achieved, and I'm sure he's just fine with it.