Denver Broncos' John Elway Focused on Improving Against High-Powered Offenses
June 13, 2012

Doug Pensinger/Getty Images
The Denver Broncos' defensive unit was much improved last season. However, in a handful of games last season, the Broncos really struggled. The most notable games were the two matchups against the Super Bowl runners-up, the New England Patriots,
The defensive backfield looked over-matched and outgunned against some of the top offenses in the league. New England, Detroit, Green Bay and even the Buffalo Bills had their way offensively against the Broncos.
Teams opened up the field, spread out the defense and picked apart the Broncos' defense consistently in 2011.
John Elway, Executive Vice President of Football Operations, took notice. On defense, the Broncos made waves in re-structuring the makeup of their defensive backfield by adding some big names to contribute alongside mainstay cornerback, Champ Bailey.
In a recent interview with local radio station 850 KOA, John Elway explained some of the things he saw last season on defense:
When you look at the opportunities we had, especially at the end of last year, we really struggled against teams that spread us out, that went empty (backfield). New England. Detroit killed us early in the year. When they spread us out, we struggled. Tracy (Porter) was out there, we explored a lot of different corners. We were fortunate to land him in free agency.
The biggest free agent signed for the Broncos on defense was, without a doubt, CB Tracy Porter, formerly of the New Orleans Saints. Porter is an athletic, young cover corner with the ability to play inside and outside. He is a special, versatile talent that is an instant upgrade over Andre Goodman. Goodman was promptly released after Porter's arrival, as his play has been just average for the last couple of seasons.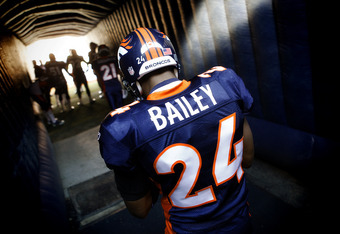 Marc Piscotty/Getty Images
Another addition that went somewhat under the radar early during free agency was the acquisition of Mike Adams, a former Cleveland Brown, who plays both safety positions.
The Broncos drafted two young safeties last season and have high hopes for their development. However, the Broncos were badly hurt by the inexperience of Rahim Moore and Quinton Carter in 2011, especially late in the season. Having a proven veteran like Adams at safety should prove invaluable for the growing safeties and will go a long way in shoring up the defensive backfield.
Another major pickup to add depth at cornerback this season was the signing of Drayton Florence, an aging veteran who brings both experience and physicality. Elway commented:
Then Drayton Florence came available and we were able to land him. We really liked him last year when he was a free agent and signed a one-year deal with the Bills. We're excited about the experience and the physicality that he brings. We've got the depth back there now. When we got spread out last year, we knew we had to get some more people back there.
Another young guy that the team hopes will contribute right away is their fourth-round draft pick Omar Bolden, a rookie out of Arizona State University. Bolden could have been a potential first-round pick in 2011 if he had left college early to play in the NFL. Instead, he ended up injuring his ACL and spent the season in rehab. Bolden is fast and has already impressed coaches during the rookie OTAs a couple weeks ago.
Bolden figures to fight for playing time along with Chris Harris, one of the surprising bright spots on defense last season, particularly in nickel packages. Harris was an undrafted gem that the Broncos uncovered last season, and he should continue to improve and provide depth in 2012.
John Elway and company focused this past offseason on shoring up a hemorrhaging defense that gave up huge numbers against the pass last season. They have made big progress in addressing last year's deficiencies and believe that this core group of defenders will go a long way in combating top quarterbacks that the Broncos face in 2012.
With the second hardest schedule in the league for the Broncos, they will face Tom Brady, Matt Schaub, Drew Brees, Matt Ryan and other top quarterbacks in 2012, something Elway and the front office are already looking forward to.