Alabama Football: Why the Tide Will Roll Through the SEC in 2012
June 12, 2012

Chris Graythen/Getty Images
The Alabama Crimson Tide will enter the 2012 season as the defending national champions and one of the favorites to take the Southeastern Conference title.
Eight members of the 2012 national title-winning squad were selected in this year's NFL draft, including five in the first 35 picks.  
Heading into this season, that's what fans and experts alike are talking about concerning this Tide team—the losses they have incurred.
While everyone is busy talking about Trent Richardson, Mark Barron, Dont'a Hightower and the rest of the players who have departed from Tuscaloosa, Dee Milliner, Nico Johnson, Eddie Lacy and the rest of the returners have been forgotten.
Sure, many of the key pieces to the Tide's title run will not be back to defend it, but there are still some very talented players returning. 
But, will it be enough to roll through what may again be the toughest conference in college football?
First, let's take a look at Alabama's 2012 schedule. The strength of the Tide will be tested right out of the gates in their season opener against the 2012 Sugar Bowl Champion Michigan Wolverines. 
This game will be an excellent test to see just how strong this Alabama defense is, as they will have to deal with a dual-threat Heisman hopeful in quarterback Denard Robinson.
A strong showing on Sept. 1 in Arlington, Texas could prove to derail Robinson's Heisman hopes and set Alabama up to make a run through the SEC.  A loss will force the team to regroup the following week against Western Kentucky.  
Then, just as it started the regular season, Alabama will also begin its SEC slate with a huge test.
This one will be on the road at Arkansas, one of the early SEC favorites and one of just three teams to put the ball in the end zone more than once on Alabama last year.
The Hogs' quarterback Tyler Wilson, a 3,500-yard passer last year, will likely try to test that new-look Alabama secondary early and often.  
Plus, the Razorback running game should be improved with the return of Knile Davis, making the Hogs one tough opponent for Alabama.
Every road game in the SEC is difficult no matter the opponent, but this may arguably be the Tide's toughest test of 2012.
If their hardest contest isn't on Sept. 15 in Fayetteville, fast-forward to Nov. 3 in Baton Rouge.  
The showdown is already set: a night game under the lights in Death Valley. The student-athletes are already talking, or should I say tweeting trash (via Bleacher Report's Barrett Sallee).  
As if there was any doubt that the grudge match between the top two teams in the country from a year ago would be anything but a knock-down, drag-out battle.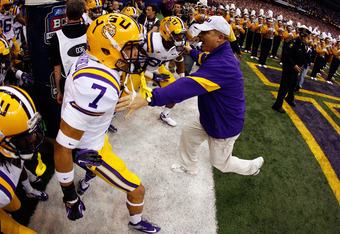 Chris Graythen/Getty Images
Clearly, LSU is still just a little bitter about what happened last season. 
These two squads will be alive and amplified and Tiger Stadium will be literally rocking, as this matchup may decide the SEC West champion.
As usual, the Tide will have to lean on their staunch defense to carry them through the season.
Luckily, they will return some talented players and should be able to reload with some skilled youngsters.
Last year's interception leader, cornerback Dee Milliner, will return along with safeties Robert Lester and Vinnie Sunseri to anchor the secondary.  Look for Ha'Sean "Ha Ha" Clinton-Dix to see some more time in the secondary as well, to compensate for the departure of Barron.
At linebacker, one of last year's leading tacklers, Nico Johnson, will lead a young but talented group.  Alabama will need a tenacious rusher off the edge to replace star outside linebacker Courtney Upshaw.  They could have that answer in sophomore linebacker Xzavier Dickson. The Tide may end up starting three sophomores in the middle of that defense, but they certainly won't be at a shortage for talent, as usual.
On the defensive front, Alabama may be even stronger than last season.  A lot of pressure will be on the Tide's gigantic (6'4" 320-pound) nose tackle, Jesse Williams to control the line of scrimmage.  If he is as good as advertised, he will be a nightmare for the rush offenses of the SEC.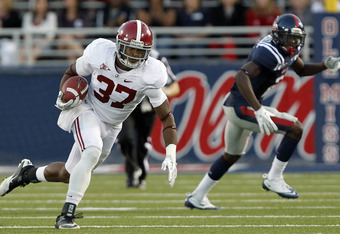 Butch Dill/Getty Images
Offensively, a lot of pressure will be placed on the shoulder of junior quarterback A.J. McCarron in his second season as the starter.  He'll be without his two favorite targets from 2012, Marquis Maze and Brad Smelley, so it will be interesting to see which young receivers will join Kenny Bell as McCarron's go-to guys. 
Luckily for McCarron, he should have a fortified offensive line to protect and provide him time to find those receivers, led by a potential first-rounder in the middle in Barrett Jones. 
This line, which should be one of the best in the country, will also be heavily relied on to create running space for the Tide running back Eddie Lacy.  Lacy, a talented runner, has been appointed the daunting task of replacing the irreplaceable Trent Richardson, who was taken No. 3 overall in the NFL draft.  
The Geismar, La. native is no slouch himself, as he recorded 674 yards and seven touchdowns behind T-Rich last year.
But you can still expect a drop-off in the Tide rushing attack.
Let's not forget who is still coaching this Alabama team.  Kirby Smart, one of the most sought-after assistants in the college game will be back yet again—not to mention one of the most successful standing head coaches, Nick Saban.  Saban is no stranger to losing talent to the NFL, so if anybody has what it takes to quickly rebuild a team, Saban certainly does. 
Again, a lot will hinge on the performance of McCarron, particularly against Arkansas and LSU. But if he can find some consistent playmakers to light up the scoreboard, the Tide will be well on their way to rolling through the SEC in 2012.